VISION SYSTEMS HELP MANUFACTURERS TO REGAIN CUSTOMER CONFIDENCE
13-03-2017
by
in
Industrial lasers & sensors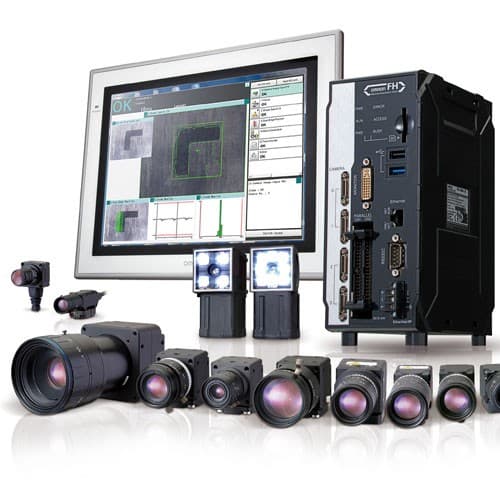 Robert Silicato, Business Development Manager at Omron Electronics, describes how two manufacturers have used industrial vision systems to improve quality control after being forced to recall their products.
A product recall involves the process of returning and replacing defective goods due to safety concerns that they might harm consumers or users. This process not only negatively impacts the manufacturer financially but also results in brand degradation and loss of customer trust.
According to the Australian Competition and Consumer Commission (ACCC), product recalls increased by 14% in the 2015-2016 financial year. The food and grocery sector accounted for the second largest number of recalls with 123 products recalled compared with 71 the year before. Contributing factors to these recalls included the presence of contaminants such as pieces of plastic, incorrect labelling, and biological causes such as bacteria. These resulted in significant economic impact, leading to brand damage and loss of sales. They also potentially raised major public health hazards.
Omron Electronics continuously aims to provide safety solutions that avoid product recalls within the food and beverage industry, and the current FH Vision system has been used in many projects over the past few years.
The FH Vision system is the industry's fastest. It features a compact camera and a controller, and can be used for inspection of all types of objects. It offers high-speed precision measurement of objects using its advanced Shape Search III algorithm.
Shape Search III is nine times faster than its predecessor, and is capable of accurately detecting objects even under poor lighting, out of focus or in various locations. This feature also makes it possible to detect glossy objects with no background noise effects.
The system is available with a choice of powerful controllers ranging from dual core mid speed and dual core high speed to quad core high speed to offer flexibility to the user. Objects can be detected using up to eight cameras, depending on the application, including small flat type and pen type cameras for installation in limited spaces, or cameras with built-in lights and lenses, further increasing its cost effectiveness.
It can detect multiple shapes within the field of view. Furthermore, the images captured can be transferred without any delay through the use of a high-performance bus.
The system is easy to program, and features preinstalled GUIs that allow operators to simply switch between screens and customise the interface according to their needs. Information can be displayed in nine different languages, and there is an IP65 certified touch screen for safe operation during on-site applications. The system can also be operated remotely via an Ethernet connection.
One recent filling application involved soup. The manufacturing company would source PVC containers from local suppliers and fill them with soup. A product recall was issued following to the discovery of unacceptably high levels of loose fragments from the container inside the soup. This was considered a safety hazard, and the size of the fragments was also a concern.
Machine operators manually stacked the containers upside down before human visual inspection ready for processing. But, the handling of the container during the operation could not guarantee the absence of foreign objects before the filling station. So Omron's engineers installed the FH vision system prior to the filling stage.
The cameras were set to detect the inside of the container. Being a liquid filler, the machine is hosed down at the end of each shift, and so each camera and light had to be protected with an IP67 casing.
As the FH vision system is one of the fastest object detectors available, it is ideal for high-speed processing plant like this in which three containers have to be detected in one cycle (three containers per second). And while simultaneous detection of multiple objects would normally result in waiting time, the FH uses parallel processing on a multicore CPU to speed up the inspection of objects.
The second case had a similar issue with broken pieces of container becoming mixed with cream contents during filling and packaging. In this case, the company concerned issued an internal product recall. This was a more challenging problem than the previous case as the container was not transparent (it was blue), and there was limited space for setup.
The packaging process used vacuum suction before the filling station. However, there was no guarantee that the suction could remove some of the larger foreign objects or other foreign objects located near edge of the base of the container.
The biggest challenge for the Omron engineers in installing the vision system in this application was the lighting. Because the container was not transparent a backlight could not be used, so front lighting was the only option. And the solution was found using Omron's real colour sensing technology.
Whereas previous generations of vision systems used colour segmentation processing and colour image processing, the FH series has a real-colour sensing feature that leverages the unit's high speed processing to use colour information for accurately detecting defects and edges.
Omron's real colour sensing can detect as many as 16.7 million different colours, and resolve them as positions in a 3D RGB space. Therefore, in this application it can even sense irregularities in the edge of the container that might suggest that it is broken.
A five-camera FH vision system was installed with a single controller that can not only detect broken pieces of the container but also ensure that once the lid is closed that the label matches the barcode. The multiline processing system is able to perform GS1 code inspection, character reading (OCR), package insert detection and external inspection. This is a big plus in track and trace industries for saving space and reducing costs.
Even though a product recall may negatively impact an industry, it is done so with respect to consumer safety. Omron's main goal is to help manufacturers to regain customer trust and ensure the safety of the community by providing solutions regardless of the challenges on the way.
Omron Electronics
1300 766 766
www.omron.com.au