VIRTUAL ASSISTANT MAKING SURE YOU KEEP YOUR PROMISES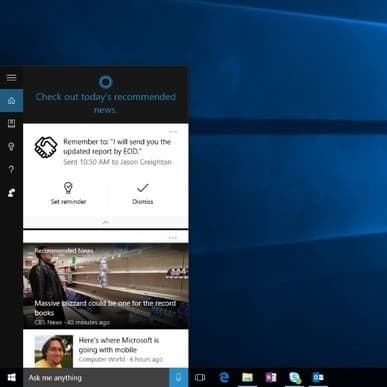 With the slew on new cyber personal assistants such as Apple's SIRI, Microsoft's virtual assistant, Cortana, is taking it to another level in hopes of creating a more reliable and useful reminders.
In the latest Windows 10 Insider build, Cortana will scan for commitments made by users in their emails and offer to create a reminder.
For example emailing "I will have this to you by next week" will create a reminder card in Cortana's main menu.  
As many have pointed out, this process if not completely automated, users will still need to clock a button in Cortana's menu to set the reminder.
The email scanning all happens locally on your device so Microsoft stores no data unless you hit the "set reminder" button.  
Users can also disable the feature entirely if they don't want email-based reminder cards to appear.
Along with the email reminders, Cortana has been updated with calendar appointments, users will alerted if someone sends a last minute meeting request.
These email reminders have been launched in the US, and the calendar alerts are available in the US and UK.