VIDEO SHOWCASES PANEL DISCUSSION ON ROBOTICS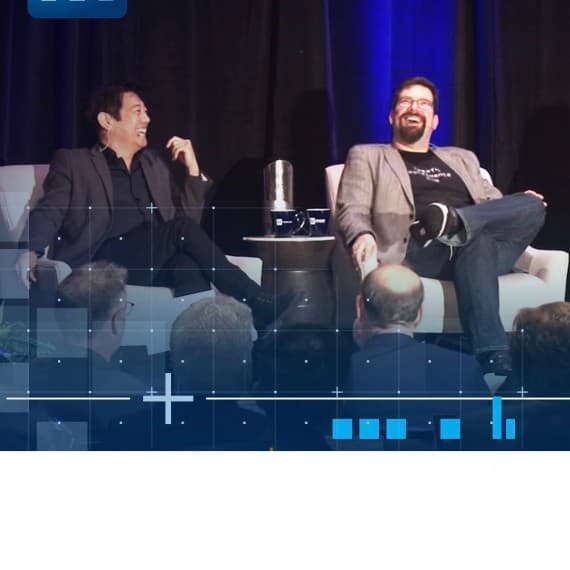 Grant Imahara and Dominik Boesl, Kuka Robotics
Mouser Electronics has released a new exclusive, one-hour video featuring celebrity engineer Grant Imahara's panel discussion from the 2018 Electronic Components Industry Association executive conference. "How Robotics Will Shape Our Future" is the final episode of the Generation Robot series from Mouser's award-winning Empowering Innovation Together program.
It features Imahara leading a lively panel of Ayanna Howard and Magnus Egerstedt of the Georgia Institute of Technology and Dominik Boesl of Kuka Robotics discussing the frontiers of robotics, with a focus on how they are causing us to rethink the way we live and work.
"The 2018 EIT series from Mouser has been one of the most interesting projects of my career," says Imahara. "I've been able to share my love of robotics and really highlight the innovations that prove we are definitely living in 'Generation Robot' — where humans and robots coexist on all levels of life and work. Seeing what comes next will be truly mind blowing."
The conference brings together senior management teams from the electronics industry's leading companies, representing the entire supply chain, to understand and address cross-enterprise challenges.
The Generation Robot series is sponsored by Mouser's valued suppliers Analog Devices, Intel, Microchip Technology and Molex. Since 2015, the Empowering Innovation Together program has been one of the most visible and recognised programs in the electronic component industry, featuring projects ranging from 3D printing objects in space to the amazing benefits of technologies that are shaping smarter cities.
Mouser Electronics
+852 3756 4700
au.mouser.com