VICTORIAN DOCTORS RALLY FOR CLOSURE OF BROWN COAL PLANTS
06-04-2016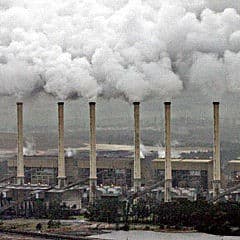 An open letter signed by hundreds of doctors has called upon the Victorian Government to address health concerns of Latrobe Valley residents, and close the Valley's brown coal plants.
The letter claims that the plants are a danger to people's health and the environment, and calls for a just and fair plan to gradually shut down these plants while to retaining local industry and jobs.
"Economists and people who've looked at job numbers tell us that there would be more jobs available in the renewable energy industry anyway, so it's not a matter of reduced jobs; it's a matter of changing jobs," said Dr Iser, chairman of Doctors for the Environment Australia.
The group said that while the Government has made promises since 2014 to make plans for the winding down of these coal plants, no concrete plans have currently been made.
The Hazelwood plant was the focus of a 2014 inquiry after a 45-day mine fire, the results of which indicated that the fire, and the plant itself, have had an impact on the long-term health of residents, lowering life expectancy and increasing the risk of chronic disease.