VERTICAL MAST IS SELF-PROPELLED ELECTRIC LADDER
02-02-2017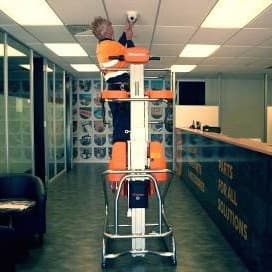 Available now in Australia exclusively from United Forklift and Access Solutions, the Elevah 40 Move vertical mast is a novel self-propelled electric ladder. And at less than $10,000, this vertical personnel lift is highly affordable for all businesses and industries.
The compact, light and highly manoeuvrable unit has a 4-metre vertical lift capability, and is capable of lifting workers and their tools safely and efficiently. It saves time and eliminates common fall hazards by removing the need to step up and down continuously from conventional ladders every time they have to be shifted to a new work position.
The integral safety cage allows work to proceed in total safety at the desired height. The unit features simple, safe and fast self-propelled movement for workplace positioning with the cage lowered. Once in position, its pushbutton powered ascent and descent is easy and safe to use.
Elevah machines offer nimble performance even in crowded or restricted spaces including warehouses and factory access lanes. And thanks to the patented loading trolley and electric remote, the Elevah 40 Move machine can be easily loaded onto a vehicle or trailer and transported to site.
United Forklift and Access Solutions
131 607
www.unitedequipment.com.au