Vertical drawers add new dimension to BAC range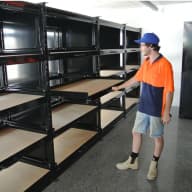 BAC Systems has released a new vertical drawer unit as part of its 77 Series range of storage concepts.
A leader in horizontal drawer storage technology, BAC Systems has expanded into vertical drawers to offer parts stores and warehouses a more complete storage solution. BAC's vertical drawers are a unique approach to medium-sized high-density storage, offering a real alternative to classical shelving or to a compactus system.
Vertical drawers combine the functionality of shelving with the practicality of drawers to create a high density shelving system that looks attractive and uniform.
With a series of adjustable shelves, a BAC vertical drawer can be ideal for the storage of archive boxes, filters, paint tins, or any other item that is too large for a drawer but not large enough for a pallet.
BAC vertical drawers can also be configured with special tool storage options. BAC Toolrack can be incorporated to offer a tidy tool display system that ensures a tool can be easily accessed and tidily stored away. CNC tool carriers can also be fitted for the mass storage of CNC taper tools.
BAC vertical drawers can be a standalone system, or can be incorporated into a larger, hybrid 77 Series storage system.
All 77 Series storage units use the same basic skeleton and a row of 77 Series could possible incorporate BAC Long Span Shelving, BAC Vertical Drawers, BAC Pallet Racking, and BAC Rail Dispensers for hang-up storage.
Being a modular system, the final configuration is based upon what you need for your particular application.
A BAC technical sales representative can visit your site to design a custom storage system to suit your requirements.