VERSATILE, RELIABLE, EASY-TO-INSTALL LIGHTING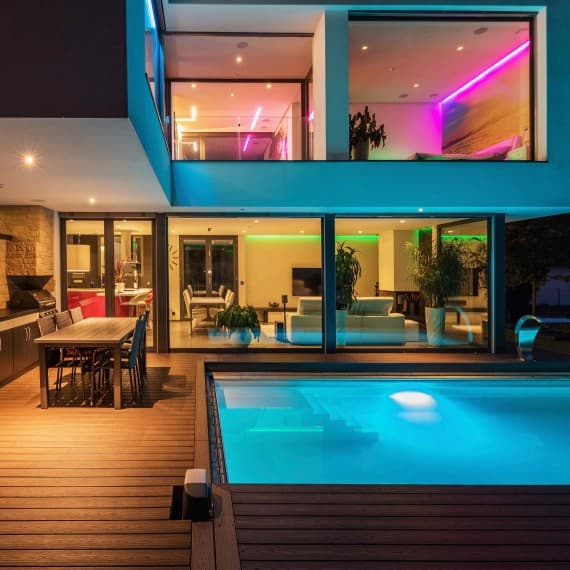 Atom Lighting, a brand of Evolt, has released its latest range of ceiling lights, downlights and lamps, powered by state-of-the-art WiZ technology. WiZ brings unparalleled control and customisation, cloud-based interface for advanced multi-site management and IoT integration to create truly smart spaces.
With the Australian smart home IoT market valued at $1.1 billion and the average Australian home having over 20 connected devices (which is projected to double by 2023), the demand for building automation is rapidly increasing. The Atom WiZ Pro range offers new lighting technology for professionals to design efficiently connected buildings without the complication of programmed automation.
WiZ technology is built into the bulbs, meaning simple installation with no extra connections or wiring and no additional installation coasts, and no hub or gateway needed to communicate with the bulbs. Wiz's technology allows up to 10,000 lights to be linked together under one system. Each light includes 64,000 tunable whites, so lighting can be set to complement the natural light of the day, minimising stress on eyes and the user's mood. 16 million colour variations and new 0-100% dimming technology meaning no flickering lights and unlimited control for users.
A benefit for developers, facility managers and end users is that the Atom WiZ Pro cloud platform allows architectural plans to be uploaded directly onto an easy-to-use interface for full remote access, enabling users to control their building from anywhere in the world. The handy WiZ app enables users to monitor buildings, measure energy usage and control the lighting with schedules and rules.
This technology is a game changer for buildings such as apartments, townhouses, detached dwellings and assisted living facilities where wasted electricity, uneven illumination and flickering lights are common issues. The new range of Atom WiZ Pro smart lighting can effectively tackle these problems through digital dimming and deliver greater efficiency.
"The all new Atom WiZ Pro range gives electricians and professional integrators a reliable, simple to install, all-in-one solution, while providing customers with an easy-to-operate smart lighting system," says Evolt Chief Marketing Officer Ben Green. "There's no gateway, no special wiring, and best of all no special programming required. When it comes to controlling lighting in multiple buildings, the combination of Atom lighting and WiZ technology is unbeatable. Users can enjoy whole building control of multiple rooms and floors, pre-program lighting, set schedules and scenes for hundreds of WiFi connected lights and associated Bluetooth devices."
The Atom WiZ Pro range is now available from Rexel and other participating electrical wholesalers, with the range expanding in the coming months.
Rexel Australia
1300 310 152
www.rexel.com.au