Versatile new storage unit from Actisafe
31-08-2010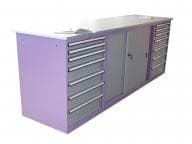 Occupational health and safety specialist Actisafe has designed a counter/storage combination suitable for a wide variety of applications.
Actisafe's counter/storage combo is supplied with high density storage drawers as well as security cupboard space for bulky items.
The unit can be used for files, storage, assembly, and demonstration and display purposes.
The top can include any type of service the end user requires, including laminates, glass, stainless steel, wood or plastic.
This unit is ideal for both heavy industry and retail operation and can be used as a storage/workbench unit or as a display stand with additional storage facilities for demonstration purposes and sales displays.
Actisafe offers a broad choice of colours and can powder coat a finish to match company requirements.
A Defence Preferred Supplier, Actisafe has designed its counter/storage combo units to be hard wearing. They can survive the most testing environment including defence, mining, general industrial and retail sectors.
All units are feature rugged corners designed to absorb the bumps that come in an industrial environment.
The unit is available with castors for easy movement and relocation.
Actisafe
Ph: 1300 852 397