VERSATILE AC/DC WELDING MACHINE FROM WIA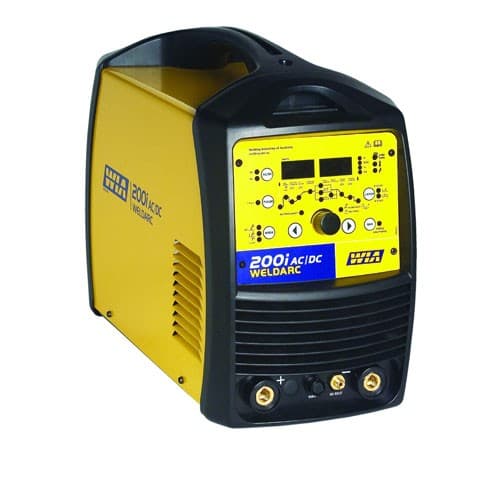 WIA (Welding Industries of Australia), a leading welding supply company, has released the new Weldarc 200i AC/DC TIG welding machine.
This compact and lightweight machine is suitable for a wide range of industrial applications.
The 200 Amp TIG welding machine offers the professional welder a number of welding options, all from a 240V powered unit.
A key feature of the Weldarc 200i AC/DC is the machine's AC capability, which allows the welder to successfully TIG weld aluminium, as well as a wide range of steel and stainless steel thicknesses when in DC mode. The user simply presses a button to change the polarity of the machine's output current from AC to DC, as required.
Being an inverter type welding machine, the Weldarc 200i AC/DC also features sophisticated electronic control and high frequency switching to achieve consistent and controlled weld output.
When TIG welding, the inverter's microprocessor control makes possible the machine's Lift-Arc start feature, which provides the welder with easy TIG starts without the need for scratch starting; reducing electrode tip damage, and giving a greater number of starts between tip grinding.
Another key feature is the machine's HF Pulse start feature that allows very easy non-contact arc starting in both AC and DC TIG mode, putting it into the professional welder category.
This feature is ideal for applications demanding no tungsten contamination of the workpiece. Welders are able to start and finish the welding operation without touching the workpiece, which is a major benefit to the professional welder, especially those doing high pressure vessel, stainless steel and aluminium welding.
And with the inverter high frequency weld power transformers much smaller than conventional 50Hz weld transformers, the machine is significantly reduced in weight and size with the Weldarc 200i AC/DC weighing in at just 21kg, making it suitable for onsite maintenance in a range of industries.
The Weldarc 200i AC/DC also features Pulse TIG which allows the user to adjust the current peak and pulse frequency. This feature reduces the heat input to the material being welded, but still allows the filler material to melt and maintain good penetration, making it ideal for use on thin materials and near edges.
And for MMA (Manual Metal Arc) stick welding, the inverter machine delivers a truly constant DC current, allowing small incremental control of the welding current. 
The electronic controls also allow the introduction of smart features such as Hot Start for even better arc starting when in stick mode, and Arc Force which constantly monitors the arc voltage and boosts the output if low arc voltage occurs. This feature particularly suits difficult to run electrodes.
With safety a very important issue for WIA, the machine features a built in VRD (Voltage Reduction Device), which delivers added safety when operating in stick or lift-TIG mode and meets the requirements of site work to AS60974.1 and AS1674.2 CAT C.
WIA's Weldarc 200i AC/DC welding machine also offers built-in operator safety, with the power source featuring a built-in thermal protection device that activates if the machine is operated beyond its safe thermal operating zone.
The Weldarc 200i AC/DC is also tolerant of unconditioned power from generators, and has been optimised and tested for compatibility with appropriate portable generators.
With a 2-year unlimited warranty on the power source, covering parts and labour, and supported by an Australia wide service network as standard, customers can be guaranteed they're buying reliability and performance.
As well as an industry leading 8m high quality TIG torch, the package includes a 15A supply plug, a 3m work lead, a 3m industrial twist lock electrode holder and an integrated gas valve, and argon gas regulator.
Willem Corbett, Development Engineer – Equipment with WIA, describes the Weldarc 200i AC/DC as a robust, versatile and portable welding machine, which can be used in many different types of industrial applications.
"And like the other Weldarc machines in the range, it is a robust quality product that is designed, with all its components, to last the user many, many years."
Welding Industries of Australia
Ph: 1300 300 884