Vehicle workers 'should apply for energy sector jobs'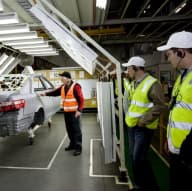 Redundant workers from Toyota, Ford and Holden could help solve a skills shortage in the energy sector, according to the Industry Skills Council for the energy sector.
E-Oz Energy Skills Australia CEO Bob Taylor says many workers from the car manufacturing and associated supply companies would be considered highly valuable to the energy sector, because of their engineering and hand skills.
"There are skills shortages across the energy sectors, particularly for electricians, Mr Taylor said. "There are also opportunities in the renewable sector, particularly in wind turbine generation in South Australia.
"In light of the announcement that Toyota would join Holden and Ford in ceasing operations by 2017, we need to focus on ensuring these skills are not lost to the economy."
Mr Taylor said the energy sector could absorb many of these workers.
Planning and advice to displaced workers must begin soon because of the lead times for many higher level skills.
"We need to ensure there is an orderly transition for these workers into new jobs," he said.
Employment of electricians is growing at three times the rate of the national workforce (between the 2006 and 2011 census it 23 percent compared to the national workforce's 8 percent).
Over 30,000 new jobs for electricians were created in the past five years, in addition to job vacancies created by workers leaving the industry or retiring.