VEGAPULS 64 PUTS LASERLIKE FOCUS ON PHARMECUTICALS AND FOOD
30-08-2016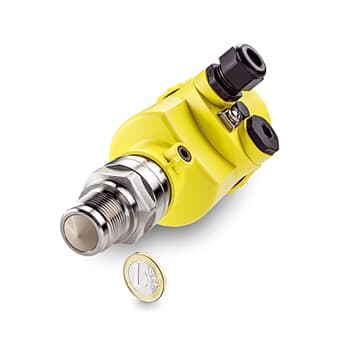 VEGA Grieshaber KG is introducing a market first: a radar level gauge for liquids that operates at a frequency of 80GHz: the VEGAPULS 64.
With a compact antenna system and hygienic material construction, the new VEGAPULS 64 is ideally suited for installation in vessels with small process connections, such as those used in the pharmaceutical and biotech industries.
What really sets the VEGAPULS 64 apart from previous radar sensors is the transmission frequency: by using 80GHz (three times higher than the previous standard of 26GHz), the device's antennas can be as small as 3/4ths of an inch, and still achieve nearly the same signal focus.
Use of this frequency also significantly reduces interference signals at close range. As this reduces the 'dead band', or minimum distance that must exist between the antenna and the liquid surface, the device can be installed in more compact environments and read with greater accuracy.
The VEGAPULS 64 brings further advantages for highly regulated industries; since existing process connections can be used, the new sensor can be installed in existing setups without costly equipment modifications.
Aseptic process fittings will be vailable at the market launch – in these, only PTFE serves as the wetted material. These process fittings meet the rewuirements of 3A, FDA and EHEDG.
Since radar signals can travel through viewing windows, and the higher frequency of transmission makes this more effective, glass containers, and other transparent surfaces, the sensor can be mounted outside the container, simplifying maintenance, troubleshooting, and cleaning.