Vector takes lifting to new heights
31-08-2010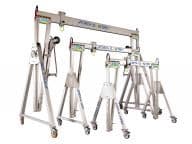 WA based leading engineering firm Vector Lifting has joined forces with UK based engineering company Reid Lifting, as the Australian distributor of its versatile Aluminium Portable Gantry and Davit range. 
The lightweight Aluminium Portable Gantry Crane ranges from 500kg to 5000kg Working Load Limit (WLL). 
All the aluminium gantry cranes are factory tested at 150 percent capacity and a load test certificate is issued with every crane. 
Vector Lifting has a lifting system to suit any need, ranging from small frames for confined spaces to large frame with a height of lift in excess of 4000mm. The spans range from 2500mm through to 5500mm. 
The aluminium portable gantry range can be operated by one man, with the smallest unit weighing as little as 28kg. 
The aluminium portable gantry's are easy to assemble on site and give users maximum versatility. They can be moved into areas that were once inaccessible by heavy steel cranes.  A variety of options are available to customize the gantry to suit specific needs.
Contact Vector Lifting for more information or a quote.
Vector Lifting
Ph: 08 9417 9128