Materials Handling & Equipment
| Article appears in February 2019 Issue
VACUUM LIFTER SCALES THE HEIGHTS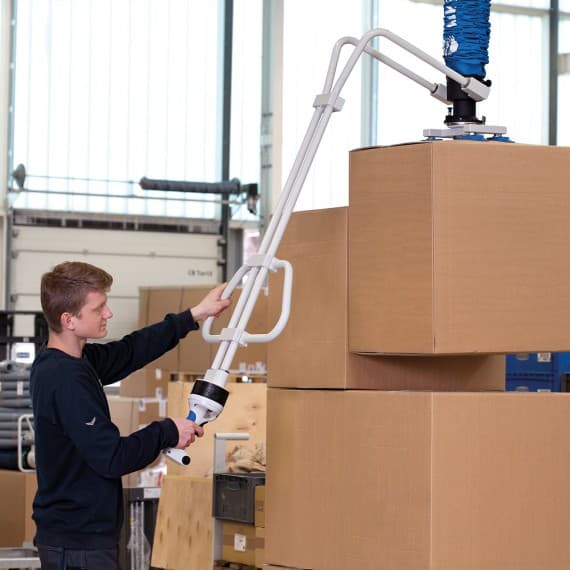 Schmalz is "raising the bar" for vacuum handling with the release of a system optimised for overhead handling tasks. The JumboFlex High-Stack can be used to ergonomically stack goods weighing up to 45kg to a height of up to 2.55m.
Manually loading pallets with cardboard boxes or sacks is a tedious task that becomes more difficult at a height. With most manual lifting aids the maximum stack height is usually 1.7m.
This is where the new JumboFlex High-Stack comes in. With its long, swivel-mounted operator handle the High-Stack makes it easy to expand upwards when lower-level storage space is limited. This means that pallets for containers or trucks can be packed with optimal use of space.
Importantly, loads close to the ground can be raised without risking back injuries using the new tube lifter. Operators can pick up goods as low as 30cm from the ground using the High-Stack, while keeping their bodies upright.
Like the rest of the Schmalz JumboFlex series, the High-Stack has an ergonomic one-hand grip for controlling the tube lifter, which is easy to use for both left- and right-handed operators. An additional handle helps to guide the tube lifter with the second hand – for example when fine tuning the height of the workpiece.
The device can be infinitely adjusted and so is ergonomically designed for any operator. And Schmalz can custom design the length and height of the operator handle to match the workpiece size and the required stack height.
Safety is a key consideration, and so the workpiece can only be released when the lifter is in a lowered position. The operator must push the button for lowering the load all the way down before a second, mechanical lever can be used to release the vacuum. This safety function prevents the workpiece from falling prematurely or unintentionally.
In addition, the ventilation of the gripper takes place so quickly that no additional effort is required to release the tube lifter from the workpiece.
The operator handle can be rotated continuously as standard, which provides great freedom of movement. This prevents the hose from twisting and gives the operator the flexibility to operate the device from any direction. Alternatively, the gripper can be fixed in 90-degree increments.
An integrated quick-change adapter allows quick replacement of the grippers. And as Schmalz has integrated the vacuum duct into the operator handle there are no external hoses or protrusions. An RF remote controller is available as an option for switching the vacuum generator on and off.
The JumboFlex High-Stack is available in Australia from Millsom Hoists (A Schmalz Company).
Millsom Hoists
03 9215 8800
www.schmalz.com.au