VACUUM LIFTER REACHES INTO BOXES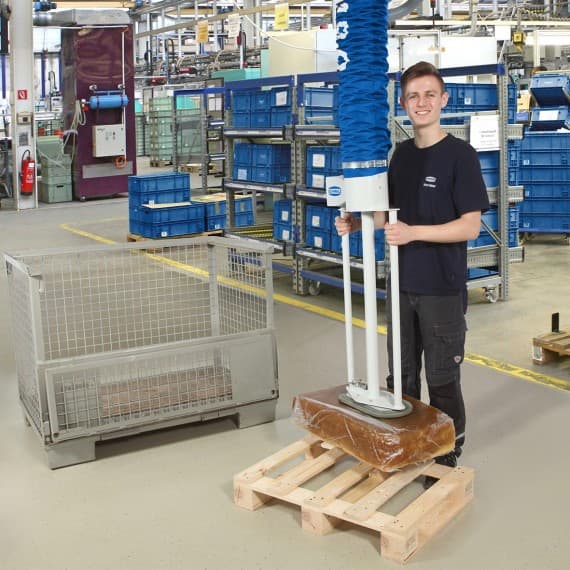 The new Jumbo Low-Stack from Schmalz ergonomically lifts cardboard boxes, metal goods and sacks from pallets that are close to ground level, and is also ideal for reaching into transport containers such as grid boxes and crates. It is based on the modular system of the vacuum tube lifters JumboErgo and Sprint, and has a load capacity of up to 80kg airtight workpieces.
With the Jumbo Low-Stack, Schmalz has developed a solution that lets users pick up and put down workpieces near the ground while maintaining an upright posture. Users control upward and downward movement simply by turning a vertical handle, which glides through their hand during lifting, giving them complete control through the whole lifting process.
Furthermore, Schmalz has equipped the Jumbo Low-Stack with a new release function that eliminates the residual vacuum between the gripper and the workpiece. With this feature, users can now release the suction cup from the workpiece without exerting any extra force.
Various suction cups for safely gripping every size and for every level of workpiece stability are available, and the quick-change adapter makes it easy to adapt them to the application.
The Jumbo family is characterised by its lift tube, which contracts and extends when lifting and lowering the load. For the Jumbo Low-Stack, Schmalz has developed a variable lifting unit, with the stroke range of 1400 to 800mm, allowing users to adapt it to their applications in the optimal way.
The Jumbo Low-Stack complements the current range of vacuum tube lifters, which provide ergonomic solutions for frequent and fast lifting and moving of workpieces during machine loading and in shipping and commissioning areas. The lifting unit, operator handle, suction cup and vacuum generator can be configured according to users' requirements.
Millsom Hoists
03 9215 8800
www.schmalz.com.au