VACUUM CHIP TRAPPER CLEANS UP CONTAMINATED COOLANT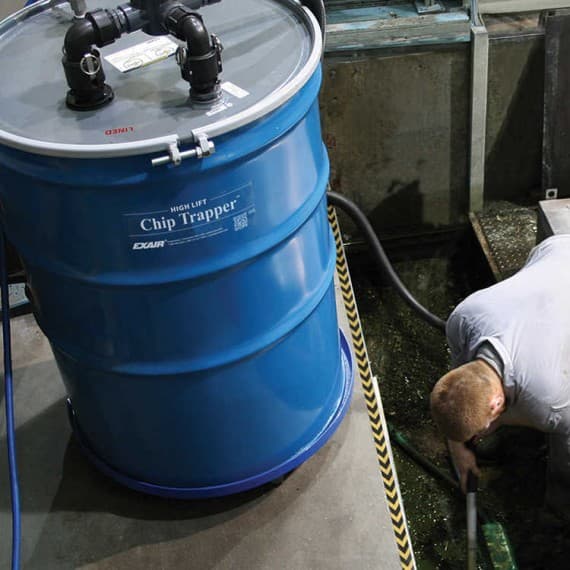 The Exair High Lift Chip Trapper offers a fast, easy way to clean coolant sumps, waste oil pits and wells, removing solids such as chips, swarf and shavings out of used coolants and other liquids. The unit offers up to 4.5m of lift or 6m of horizontal vacuum, allowing users to extend the life of coolants and eliminate the worry of waste oil solids damaging equipment.
Powered by compressed air, the High Lift Chip Trapper sucks the dirty liquid into the included drum, trapping all the solids in a reusable filter bag. With a turn of the flow valve, clean liquid can be pumped back out. There are no motors or impellers to clog or wear out. Safe operation is assured with built-in pressure/vacuum relief and an automatic safety shutoff to prevent spills or overfilling.
Available from Compressed Air Australia, the Model 6190 High Lift Chip Trapper is available with 114, 208 and 416 litre capacities. Each system comprises the stainless-steel two-way pump, directional flow valve, drum, lever lock drum lid, shutoff valve, 6m vacuum hose, 6m compressed air hose, chip wand, two filter bags and a drum dolly. The High Lift Chip Trapper is CE compliant.
Compressed Air Australia
1300 787 688
www.caasafety.com.au