V-BELT DRIVE MAINTAINS ITS TENSION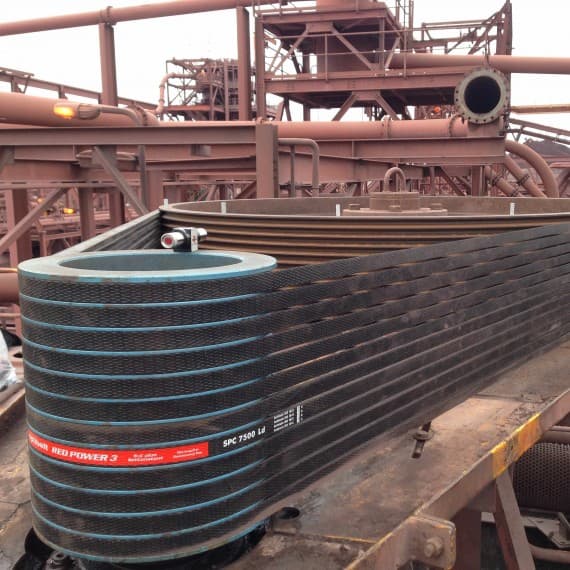 Optibelt reckons its low-stretch and maintenance-free Red Power 3 v-belt drives offer a range of advantages in heavy-duty applications. Crucially, the belts are designed so that once correctly tensioned the first time, they don't require retensioning - a valuable saver of time and money.
A major mining client called on Optibelt to fit Red Power 3 belts to an agitator drive on the flotation circuit at a large copper/gold mine in South Australia. The client was so impressed with the performance, says Matthew Robinson, Optibelt General Manager, that it updated its bill of materials to include Red Power 3 as its required v-belt for agitators on the A and B train of its flotation circuit.
"They have been very impressed with the performance," he explains.
"Red Power 3 is perfectly suited to these agitators because they can transmit the required power and will also not need to be retensioned for the life of the drive. No other wrapped v-belt on the market has the capability to one-shot tension and installation and become a 'fit-and-forget' drive."
Red Power 3 belts use a high modulus polyester tension cord that does not continually stretch over time, which is what gives it its ability to hold tension. In this capacity, it even goes beyond similarly strong aramid tension cord v-belts, including Optibelt's own aramid tension cord Blue Power v-belts, which, while capable of higher overall power ratings than Red Power 3, was not the beneficial belt for the flotation cell drives in this instance.
"Other aramid cord v-belts will work in this drive but will not have the advantages of the Red Power 3," explains Robinson.
"In agitator drive applications, the Red Power 3's power rating was capable of transmitting the required power while the Blue Power led to overdesign and was subsequently not as efficient for this application as it created higher shaft loads on the bearings."
The use of Red Power 3 v-belts can increase the mean time between repair on belt-driven applications considerably, compounding cost savings and reduced downtime for the operator.
Optibelt Australia
03 8791 2700
www.optibelt.com