Published 19-09-2019
| Article appears in October 2019 Issue
USING TECHNOLOGY TO MANAGE MULTIPLE CLEANING MACHINES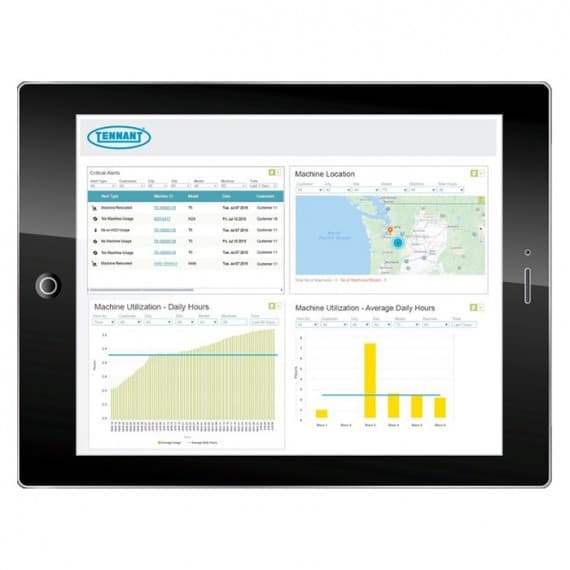 When you have a large fleet of cleaning machines to manage, you'll quickly find yourself faced with a number of challenges, such as: who's using which machine (and when); keeping track of machine locations and finding lost ones; monitoring machine performance and maintenance needs; and the all-important calculation of costs per machine.
All these are critical to ensure your operations can run smoothly and you get the most from your machines. But doing it all manually just isn't practical for you or your team. Collecting and reporting on all the data eats into valuable cleaning time (and profits).
The good news is that you can purchase machines equipped with smart cleaning technology that allows you to monitor and manage your cleaning equipment. It won't solve all your problems, but it'll help minimise them and make them a lot easier to keep under control.
Smart cleaning technology, such as Tennant's IRIS Asset Manager can help manage a large fleet of machines.
Using data to make decisions
Today, running any business is all about data. And advanced cleaning technology provides data on each machine, such as how they're being used, and where they're located.
Getting the right data at the right time can help empower you to make better decisions based on facts (not just gut feel). And these decisions can have a real impact on operations.
For example, swapping an underutilised machine out into the field, or scheduling an extra training session for staff who aren't following protocol or best practices, or maybe investing more in the machine/technology that demonstrates better performance.
Real, quantifiable metrics mean you can confidently make decisions, deliver a better clean, optimise team performance, and run a better business. Which in turn means happier customers.
Spot patterns and solve problems
What happens if you get a customer complaint? Or you experience a recurring maintenance issue with one of your machines?
Smart cleaning technology can help you find out the source of your problem and fix it.
If a customer complains about the standard of cleanliness in an area, you could check the data to make sure your cleaning machines were being used appropriately, and for the expected length of time. To solve the issue, you'd make sure the machines are performing optimally and increase the cleaning time, if needed.
Or perhaps you have certain machines that seem to break down regularly. Data enable you to check the machine's usage and identify if there are any patterns that might cause problems.
Another very useful pattern you can track is spending data - on maintenance, servicing, and repairs. That way, you can forecast future spending and set aside a more accurate budget.
Inbuilt training technology
Especially with new cleaning technologies that continually change and improve over time, regular training means your team can keep up with the latest changes, new efficiencies, and improved standards.
But what if your training and onboarding processes were built into the machines themselves? These days, many advanced cleaning machines include technology that can speed up your team's learning. For example, some Tennant machines come with Pro-Panel LCD touchscreens.
These control panels offer a huge range of features and options, including on-demand training videos, 28+ language options for diverse workforces, and pre-operation checklists.
Save on costs
Managing a large fleet can get expensive. But you can control and mitigate those costs with smarter cleaning technologies.
For example, by tracking battery charging activities and ensuring team members follow best practices, you can extend battery life and minimise battery replacement costs.
You can reduce the likelihood of losing machinery or equipment with location data and alerts, minimising machine replacement costs.
And you can ensure efficient cleaning technologies are being used to maximise performance and cost savings.
Tennant Australia
1800 226 843
au.tennantco.com