Published 02-04-2020
| Article appears in April 2020 Issue
Using the right welding table improves accuracy and precision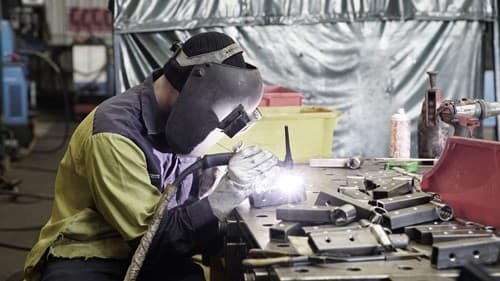 Welding is an essential activity in so many industries, and the right equipment is critical when complex designs put a premium on accurate work and leave little tolerance for error.
The Demmeler 3D workbench and welding table distributed by Leussink is a versatile jig and fixtures system for all types of welding and fabrication work. Projects such as steel construction, sheet metal processing, robot technology, assembly and measuring equipment, laser welding, laser cutting, prototype construction, body construction and many others can be set up easily and precisely.
The Demmeler system can meet all horizontal and vertical requirements and is complemented by a full range of components to fixture virtually any part. Due to its modular nature, engineering changes are easily handled, and duplicate fixtures can be ready in as little as 20 minutes. By using modular fixturing, users can recover valuable production space once used for storage of old dedicated fixtures and jigs.
Another factor that needs to be considered with welding table systems is hardness because welding obviously creates a lot of heat. Demmeler's Demont range uses a high-strength base material for the worktop in combination with a special optimised low heat hardening process that provides the best surface characteristics for any type of project. Demmeler tables are constructed using a low heat hardening process, which helps stop distortion caused by high heat.
Vawdrey, a Victorian-based company that manufactures truck trailers, used a plain steel bench for small jobs in its workshop before acquiring the Demmeler system from Leussink. Vawdrey's Quality and Manufacturing Engineer, Bradley Kent, estimates that Vawdrey is saving about 20% in the time it takes to manufacture the smaller parts, while also boosting accuracy.
"The Demmeler system is more precise, allows us to set up jigs, and clamp anywhere, not just at the sides of the bench. It allows us to repeat the same job over and over and it comes out the same way every time," said Mr Kent.
Among other accessories, there is a range of angles that allow users to expand the working area of the Demmeler table, both up and out, making it easier to set up jigs or weld larger items. Four new models were recently added to the range. The new aluminium/titanium Demmeler angles weigh only a third of similar angles made from steel, so a user is lifting only 12 kilograms instead of 35 kilograms.
As well as extending the working surface of the Demmeler table, the angles act as a stop and allow the user to secure workpieces at 90 degrees. The 50mm borehole grid makes the angles easy to handle and move into place for accurate work, and the kidney-shaped 90-degree system groove makes continuous angle adjustment possible.
All the design elements that are incorporated into the Demmeler table system make them very easy and quick to clamp and unclamp. For example, when using the Demmeler power screwdriver with quick-change coupling, the process is ten times faster than conventional methods.
Leussink works closely with clients to make sure the Demmeler 3D table system works for them by providing onsite visits and follow-ups.
For more information contact Leussink at www.leussink.com.au or by phone on 02 4260 7777.