USE 'FLASH EVAPORATION' TO PRE-COOL YOUR CONDENSERS
15-11-2016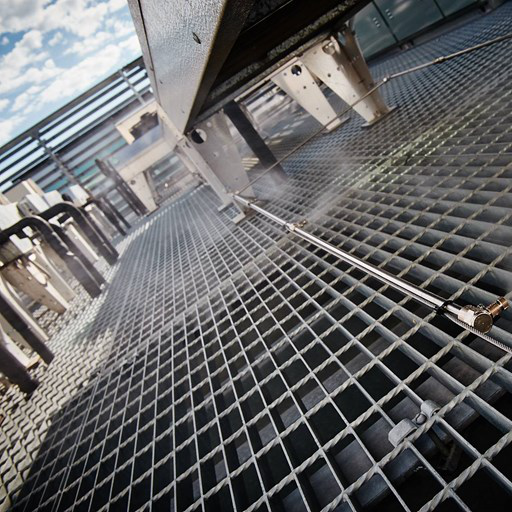 The secret to the Ozmist Pre Cooling System is the extremely fine mist that 'flash evaporates' and cools the air surrounding a coil.
Cooling air before it passes through a coil allows for the rejection of more heat, resulting in substantially lower head pressures and compression ratios. Lower head pressures equal lower running costs, improved performance and less downtime during extreme heat events.
Each coil has it's own custom designed mist line system fabricated from 304g stainless steel tubes that are pre cut and machined by Ozmist. The lengths of tube are joined with Nozzle Unions from the Quick Fit tube range and then attached to the coil frames on stand off brackets.
An integral part of the Ozmist system is the high pressure pump module, which connects to a standard garden tap and pressurizes water to 1,000psi. The high pressure water is forced through a nylon supply line which can connect to multiple coil mist systems.
The design of the mist lines changes depending on the coil type, but in all cases the mist is sprayed parallel to the face of the coil to ensure comprehensive coverage and avoid wet spots. Evaporation takes place before the mist settles, eliminating damage to the fins which can be caused by excessive water presence.
The system can be controlled by an Ozmist Ambient Thermostat, or through a connection to a building's inbuilt BMS system.
To operate the flash evaporation system, simply set the start parameters and the system will run automatically and only when required. Water usage is a fraction of that of other systems commonly used, reducing damage to coils and roof sheets and saving money on water charges. Installation is a quick and simple process and does not require a shutdown.
Systems are manufactured by Ozmist in Australia so lead times are days - not months!

Ozmist
1300 306 478
www.ozmist.com.au