US manufacturing shrinks for first time in three years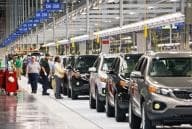 US manufacturing shrank in June for the first time in nearly three years, adding to signs that economic growth is weakening.
Production declined and new orders plunged, according to a monthly report released on recently by the Institute for Supply Management.
The slowdown comes as US employers have scaled back hiring, consumers have turned more cautious, Europe faces a recession and manufacturing has slowed in big countries such as China.
The trade group of purchasing managers said its index of manufacturing activity fell to 49.7 – down from 53.5 in May. And it's the lowest reading since July 2009, a month after the Great Recession officially ended. Readings below 50 indicate contraction.
Economists said the manufacturing figures were consistent with growth at an annual rate of 1.5 per cent or less. That would be down from the January-March quarter's already tepid annual pace of 1.9 per cent.
Still, most economists aren't predicting another recession. Though the ISM report suggests manufacturing is contracting, it typically takes a sustained reading below 43 to signal the economy isn't growing.