US manufacturing on the rise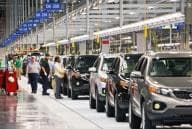 US industrial production rose more than expected last month – another clear sign US manufacturing is on the rebound.
Output at factories, mines and utilities climbed 0.7 percent, according to data from the Federal Reserve in Washington.
Economists polled by Reuters had expected industrial output to rise 0.4 percent.
Manufacturing output rose 0.8 percent during the month, bouncing back from a decline in January.
"It looks like a pretty good quarter for manufacturing," said Michael Feroli, chief U.S. economist at JPMorgan Chase & Co. in New York.
"Capital goods are doing well, autos came back a little bit and there's strength in consumer goods. It's looked pretty broad- based."
General Motors Co (GM) and Ford Motor Co expect vehicle sales – on pace for the best year since 2007 – will remain resilient.
Cars and light trucks sold at a 15.3 million annual rate in February after 15.2 million a month earlier, according to data from Ward's Automotive Group.
And retail sales increased 1.1 percent in February, according to latest Commerce Department figures.