US manufacturing on a high
31-08-2010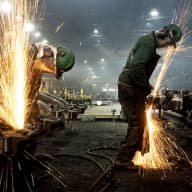 US factory activity expanded last month at the fastest pace in 2½ years, according to latest industry data.
The Institute for Supply Management, a trade group of purchasing managers, says its manufacturing index rose in September to 56.2, the highest since April 2011, according to the Associated Press. That's up from 55.7 in August and fourth straight increase in the index. A reading above 50 indicates growth.
Manufacturers added jobs last month at the fastest pace in more than a year. A measure of output rose in September. And new orders grew at a healthy pace, though slower than in August.
US factories are showing signs of picking up after slumping earlier this year.
A modest recovery in housing and strong auto sales are pushing up demand for steel and other metals, auto parts, furniture and appliances.
Economists said the strong figures suggest that the annual growth rate in the July-September quarter could be healthier than current forecasts of about 2 percent. The index has averaged 55.8 in the past three months, up from 50.2 in the April-June quarter.
And the strength at factories has the potential to set the stage for even faster growth in the October-December quarter. Some analysts are forecasting growth at an annual rate of up to 3 percent.