US industrial production nosedives
31-08-2010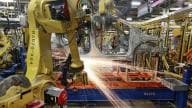 US industrial production fell in August by the largest amount in more than three years.
Output was dragged down by a cutback in consumers spending, less demand for vehicles and machinery and a decline in US exports.
Several factories were also forced to close as a result of Hurricane Isaac along the Gulf Coast.
According to the Federal Reserve, industrial production dropped 1.2 per cent in August compared to July.
It was the biggest setback since a 1.7 per cent decline in March 2009, when the country was in recession.
Manufacturing output, the most important component of industrial production, fell 0.7 per cent, led by a 4 per cent drop in output at auto plants.
The weakness in manufacturing in August was widespread. Production fell at factories making machinery, computers, aeroplanes and furniture.
But even with the August decline, output at manufacturing plants is still 20.7 per cent above the recession low hit in June 2009.