US government invests in 3D technology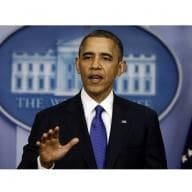 US President Barack Obama believes 3D printing can play a role in strengthening his country's manufacturing, scientific, defence and energy sectors.
The US President has pledged funding to invest in 3D printing research.
He says the burgeoning technology could be particularly useful to the Defence Department in strengthening the military.
Early this year Obama announced plans for three new manufacturing hubs.
"Our first priority is making America a magnet for new jobs and manufacturing," he said during the State of the Union address.
A pilot institute in Youngstown, Ohio, was established last year through a $30 million federal grant. It consists of a consortium of manufacturing firms, universities, community colleges and nonprofit groups located throughout the Ohio-Pennsylvania-West Virginia "Tech Belt."
As part of that project, "a once-shuttered warehouse is now a state-of-the-art lab where new workers are mastering the 3D printing.
"That has the potential to revolutionise the way we make almost everything," Obama said.
The focus on 3D printing faces increasing scrutiny from lawmakers who are concerned about one application in particular: guns.
One group in the spotlight now is Defense Distributed, a pro-gun nonprofit working to make 3D-printable gun designs freely available to everyone on the Internet. The group recently made major inroads toward that goal with its nearly completely 3D-printable plastic "Liberator" handgun.
As a result, several lawmakers are pushing to ban 3D-printed guns.
California state Senator Leland Yee has already announced plans to introduce legislation to prohibit the use of the technology to create untraceable and anonymously produced guns.
In April, US Representative Steve Israel, a New York Democrat, introduced the Undetectable Firearms Modernization Act, to reauthorize the ban on undetectable firearms and to extend the ban to undetectable firearm receivers.