Urgent action needed to save auto industry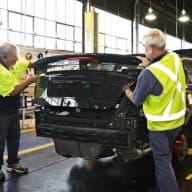 Governments at all levels must work closely with the automotive industry to secure a sustainable future, says VECCI, the peak business body in Victoria.
VECCI says the industry's future cannot be left to chance given its significance to the Australian economy. 
"The fact that the automotive industry is the largest single manufacturing segment in Australia is a compelling reason why governments at all levels must take seriously the task of working with the sector to secure sustainable improvements in competitiveness, said VECCI Chief Executive Mark Stone. 
"At stake is the exporting of vehicles and components worth almost $4 billion per annum, over 50,000 direct and indirect jobs, many of which are in Victoria, along with significant contributions to skills development, technology and innovation, he said.  
"Automotive industry research and development expenditure alone totals almost $700 million per annum. 
"Policy-makers cannot stand idly by at a time when the sector continues to struggle against the forces of a high Australian dollar, high fuel prices and strong competition from low cost producers." 
Mr Stone said iconic automotive companies like Toyota are doing what they can to cut costs and boost productivity, but they need the right signals and support from policy makers, just as many of their overseas competitors receive from their governments.  
"With the right industry and economic policies in place, industry prospects can be strengthened as our producers respond to international challenges by leveraging their strengths in design, engineering and the production of fuel efficient vehicles, he said
"There is no silver bullet or quick fix for improving automotive industry competitiveness.  
"A blend of integrated and strategic reforms have the greatest prospect of securing a more sustainable and competitive footing for the industry. 
"These range from cuts to red tape and lower business taxes, to renewed support for research and development, improved access to capital, and securing reciprocal reductions in tariffs and non-tariff barriers among our major trading partners. 
"Of particular importance is the need for government support to help automotive producers vary existing enterprise agreements so they can modernise their work practices, lower costs and improve productivity."