Updated embedded device server a winner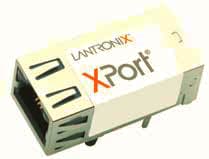 Lantronix's highly regarded XPort has had an upgrade, cementing its place as a leader in embedded ethernet technology.
The compact and easy-to-use XPort 05R is an integrated solution to web enable, with minimal engineering effort, just about any serial device.
Importantly, product control becomes a breeze. By incorporating XPort to a product design, manufacturers can quickly and easily offer serial to ethernet networking capability, via RJ45, as a standard feature. Equipment can be accessed and controlled over the internet.
All of the required hardware and software is incorporated in this embedded ethernet solution including options such as 256-bit AES encryption for secure communications.
This proven operating system's ethernet connection is 10Base-T/100Base -TX Other features include e-mail alerts and a full TCP/IP protocol stack.
Lantronix's XPort 05R is available from Soanar, a leader in custom power supply solutions.