Unveiling the new Cigweld auto-darkening helmet range
31-08-2010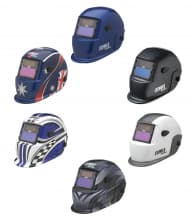 Value for money … the new Cigweld WeldSkill Auto-Darkening Welding Helmet Range
Thermadyne has launched the new Cigweld WeldSkill Auto-Darkening Welding Helmet Range.
These helmets are specifically designed for the budget conscious user and offer excellent comfort and performance. 
The WeldSkill Auto-Darkening range is fitted with the latest auto-darkening shade lenses and is available in seven models – one model with fixed shade 11 lens and six other models with a variable shade 9-13 lens. 
All models can be fitted with an optional Cigweld magnifications lens, which magnifies the work area to substantially assist the welder in maintaining the high standards required. 
Features include:
Two sensor auto-darkening filter lens – Fixed shade 11 & Variable shade 9-13
Fully compliant to AS/NZS 1337:1992, AS/NZS 1338.1:1992
Suitable for use with Cigweld magnification lenses (optional)
Grinding and welding modes
Battery powered with solar assist for extended battery life
High speed reaction time- 1/30,000sec
Sensitivity and delay adjustments
Limited 1-year warranty
Thermadyne Asia Pacific
Ph: 1300 654 674