The unsung hero of hallways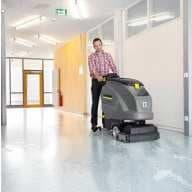 The unrecognised heroes of every office, supermarket and factory are the cleaners. When these places have emptied out for the night, the halls are filled with the sounds of flickering fluorescent lights and the hum of a floor cleaner. 
But why should the cleaners be left to do all the hard work? Why not get the job done faster and more efficiently?
The B40W from Kärcher Professional takes the hard work out of cleaning the floors.
This battery powered, walk-behind scrubber is the solution to floor cleaning problems.
The nimble and slender B40W cleans surfaces quickly and even if the area is as small as 100sqm, they are far more efficient than wet mopping. 
This 62cm slim model is the smallest in a wide range of walk behind floor cleaners from Kärcher, whose wide range of cleaning equipment for professional and industrial settings is second to none.
Able to scrub, soak, vacuum and dry all with ease, the B 40 W range also features two 40L tanks, one for clean water and one for dirty. This ensures you won't be cleaning your floors with recycled, used water and that you won't need to revisit the same spots twice.
This Kärcher walk behind floor scrubber comes standard with an Intelligent Key system. This feature can be used to set varying levels of authorised access by means of colour-coded keys (yellow for operator, grey for facility manager, red for service technician).
With a range of optional additional features, Kärcher floor scrubbers can be customized to suit your space and needs. 
Kärcher Australia
Ph: 1800 675 714