Published 10-12-2020
| Article appears in February 2021 Issue
Unprecedented grip accuracy from Kitagawa BR series chucks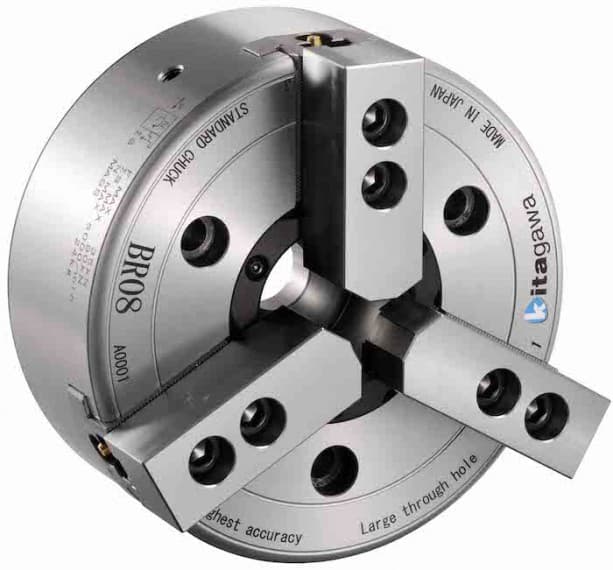 The new BR Series power chucks are the latest offering from Kitagawa providing outstanding gripping accuracy of 0.01mm or less TIR immediately after jaw forming.
Total Indicator Reading / Runout is a measurement of how far the work runs out of true.
Due to its precise accuracy, the BR Series also reduces jaw-lift providing stable machining quality.
Power chucks are installed on machine tools such as CNC lathes and machining centres to fix a workpiece.
The power chuck is equipped with top jaws to fix the workpiece and they are opened and closed by means of a rotary cylinder.
The Tnut Plus
Use of the new Kitagawa optional "Tnut-Plus" provides even greater gripping accuracy even after detaching and re-attaching your formed jaws.
Soft jaws formed using the Tnut-Plus can maintain the gripping accuracy equivalent to just-formed soft jaws even after they are removed from the chuck because they can be reinstalled in the same positions.
Because no jaw reforming is required it shortens set-up and changeover time substantially saving you valuable time and increasing productivity.
As an example, a machine shop that spends thirty minutes on jaw reforming and undertakes three jaw re-forms per day will achieve significant time savings per year.
Based on 300 annual working days this could equate up to 450-man hours which translates to large monetary savings and productivity gains.
A variety of models
Four models/sizes are available and for maximum convenience and cost-efficiency the new BR Series chucks are completely interchangeable with your existing Kitagawa B-200 and BB-200 series.
The incredibly high-gripping TIR accuracy of the new Kitagawa BR Series power chucks transforms conventional machining methods and will improve any machine shop's productivity.
Due to the high accuracy of jaw mounting, expensive special jaws are not needed; Dimac's own locally manufactured soft jaws can be used.
Manufactured at Dimac's manufacturing facility at Dandenong, Victoria for over 30 years, Dimac soft jaws are precision-engineered and made from 1040 or K1144 carbon steel. Accurate control of slot width ensures minimum runout when refitting soft jaws that have been previously machined.
Dimac soft jaws are available in a large selection of sizes covering all brands of chucks. The company also offers custom sizes to suit any application including complete custom workholding.
The Kitagawa standard power chuck is acknowledged worldwide for its quality and longevity and the company has developed a well-earned reputation for designing workholding products that maximise productivity and minimise downtime.
Dimac is also the distributor of other leading CNC accessory and workholding brands including Freddy coolant recyclers, Lang Technik 5-axis vises, Reven air cleaners, Hydrafeed barfeeders and Royal's Rota-Rack.
DIMAC – dimac.com.au