UNIVERSAL ROBOTS, THE COBOT, AND A WORLD EXPERT
22-09-2016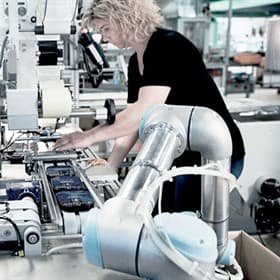 One of Universal Robot's greatest goals is to surmount the fear many people have of automation, innovating robotics in a way that works with people, rather than replacing them.
To this end, they have hired a global expert on robotics safety and technical standards; Roberta Nelson Shea, an experienced executive with a decades-long career in the safety and business sector.
She's worked with industry heavyweights Pilz, Honeywell, and Rockwell Automation, amongst others, and brings this expertise to the future of co-botics.
"We are at the start of a new generation of robotics, with Universal Robots as a young and vibrant first mover," she says.
"Their collaborative robot arms have made human-robot collaboration possible, ushering in a wide range of new viable robot applications."
The collaborative robot, or cobot, is indeed a world first. Upon the release of the workfloor-safe robot, larger companies immediately saw that cobotics was the future, and begun to follow in Universal's footsteps.
"The company is looking at robots with a different lens, bringing a breath of fresh air to the industry," said Roberta.
The emerging competition has recieved authoritative attention, with the ISO committee releasing the ISO/TS 15066 specification, detailing the specifications needed for collaborative robotics safety, and outlining the definitions for such a system. For anyone even remotely interested in cobotics, it's a must-read.
"These specifications are an important first step in providing guidelines on cobot safety and risk assessments," said Universal Robotics R&D Director, Mogens Saigal.
"With our technology advancements, there is growing potential to safely combine the power and precision of robots with the creative and problem-solving ability of humans."