A UNIQUE NEW HOSE NOZZLE THAT'S MADE TO LAST
04-01-2016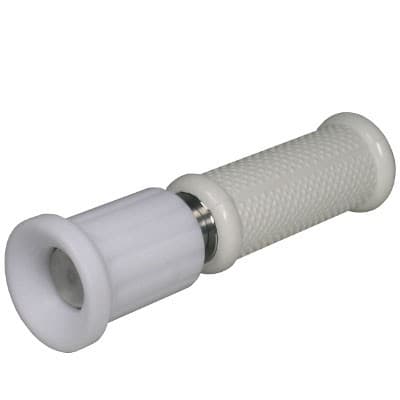 There aren't many people who get excited by a hose nozzle, but that's probably because they haven't seen the new 316L Stainless Steel Hot Water Hose Nozzle designed for the food, beverage and pharmaceutical industries.
Built to last with a replaceable White EPDM rubber grip, the Heavy Duty Hose Nozzles from Tecpro Australia are designed to take all the knocks and shocks of everyday manufacturing.
They easily handle up to 16 Bar of water pressure (232 PSI) and can accommodate hot water up to 80°C.  The EPDM rubber cover minimises heat transfer, which makes the Nozzle more comfortable for members of the cleaning team to hold.
Not only that, the Nozzle delivers a high flow, adjustable water pattern that ranges from a narrow jet to a conical spread with a simple twist of the Nozzle head. Twist in the opposite direction and the Nozzle shuts off securely without leaking.
That's why Patrick Cooper, one of the Technical Consultants at Tecpro Australia is so excited. "It's the best thing since sliced bread" says Patrick, grinning widely. "It's ideal for use in a number of specialised industries where hygiene is critically important such as meat, fish and diary industries, food processors, breweries and beverage manufacturers, industrial kitchens, abattoirs and manufacturers of pharmaceuticals."
The high quality, White EPDM rubber grip can be easily replaced once worn without the need to purchase an entire new Nozzle.
All in all, the White Heavy Duty Hose Nozzle from Tecpro Australia is punching above its weight in many applications across Australia and the world.
Tecpro
1800 TECPRO