Union rally against manufacturing job losses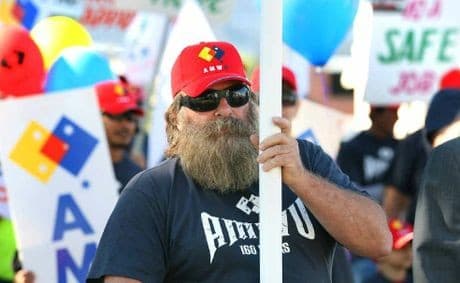 A major rally will be held in Newcastle today to protest against manufacturing job cuts in the NSW Hunter Region.
Organised by the Australian Manufacturing Workers Union (AMWU), the rally will coincide with International Workers' Day.
The AMWU rally also involves an online campaign in the lead up to the NSW state election in 2015, with a special video to highlight the issue.
The union is urging the government to commit to local jobs.
''We want to make sure that every family in Newcastle and the Hunter knows about what's going on, campaign director George Simon told the Newcastle Herald.
''This will be a sustained campaign in the lead-up to the 2015 election to let the community in the Hunter know where the major parties stand when it comes to jobs and our local economy,'' he said.
Meanwhile, AMWU State Secretary Tim Ayres told the ABC claimed the Hunter is facing a jobs crisis.
"More than 3,000 jobs are at risk in the Hunter's rail infrastructure sector and 1,000 jobs in shipbuilding, because of inaction of State and Federal Coalition Governments," Mr Ayres said.
Mr Ayres claimed that local shipbuilder Forgacs may be forced to make 900 workers redundant next year if the federal government cannot guarantee future naval work.