UNION MERGER EVADES SENATE CHALLENGE
29-03-2018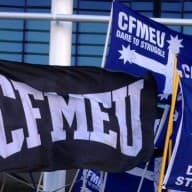 The proposed merger of the construction, textiles, and maritime unions to merge into a new 'super union' is still meeting pushback from government officials, but has narrowly evaded a 'public interest test' that would have been imposed by the senate's Ensuring Integrity Bill, had it passed. 
"Unfortunately, we did not get the numbers to secure passage of this important legislation," said Workplace Minister Craig Laundy.
"This new super union will cover key Australian industries across the economy – mining, construction, shipping, energy, forestry and manufacturing – around 16 per cent of the economy." 
Government ministers continue to raise concerns around merging two unions (construction and maritime) that have seen over $14 million AUD imposed in fines, but have largely neglected to mention the textiles union. 
 told Fairfax Media the government had focused on the merger of the CFMEU and MUA and had not mentioned her union when approaching crossbenchers.
"They didn't want to focus on the textile union amalgamating with the CFMEU and MUA because they are trying to demonise the union. The story about some of the lowest paid workers in the country who need to be part of a strong union was not a story the government wanted to focus on," said Michele O'Neil, the TCF (Textile, Clothing and Footwear) national secretary and vice president of the new "super union". 
"We are fighting for members' jobs as well as their conditions."
"Our union is 148 years old and has amalgamated 26 times. This will be the 27th," she said. 
Despite calls that there are "legal grounds" to overturn the union merger, members and officials remain resolute. 
"The Maritime Union of Australia has merged 37 times since 1872... This is just the latest merger. It is about economies of scale, it is legal and these guys are just grandstanding," said Paddy Crumlin, the international president of the new Construction Forestry Maritime Mining and Energy Union. 
The head of the newly merged union Michael O'Connor has defended the union's conduct saying that he believes the union's past and presend conduct "is consistent with the aspirations of our members and we will do and take what necessary steps we need to do to advance the interests of workers, their families and the communities we represent."