UNION MARCHES ON THE RISE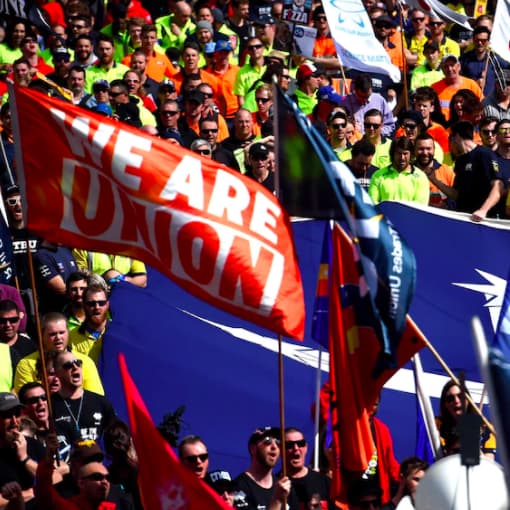 Over the next two weeks, thousands of union workers will be marching across the country, campaigning for wage increases and job security. 
Union representatives will meet on Tuesday at the Melbourne Town Hall, before workers begin Change the Rules rallies across Australia from Newcastle, Canberra, Ipswich to Maryborough, across to Fremantle, Darwin to Melbourne until 18th May. 
The marches will be the biggest campaign since the Your Rights at Work effort in 2007 which shaped public discourse around the controversial Work Choices legislation. 
Many of the rallies coincide with May Day festivities marking International Workers Day.
The Electrical Trades Union and the Australian Manufacturing Workers Union (AMWU) will also march to ExxonMobil headquarters to protest 230 maintenance job cuts, as they alledge they were fired after refusing to accept wide pay cuts and unfavourable changes to working conditions. 
"We need to change the rules so multinational companies like Exxon can't avoid paying tax in Australia while hurting people and their families just to boost their own profit," AMWU branch secretary Steve Dargavel said.
The rules in question refer to Australia's laws surrounding legal industrial action, which unions and workers have criticised for being restrictive. 
ACTU Secretary Sally McManus said people all over Australia wanted to change the rules, have more secure jobs, and see fair pay rises.
"They know big business has too much power," she said.
"Anyone who wants to live in a better, fairer country, who wants more secure jobs and fairer pay rises, should attend these events and join the movement for change."