Union backs Opposition imports policy
31-08-2010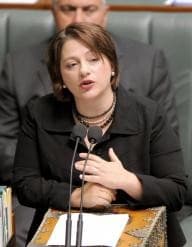 Sophie Mirrabella … 'strict standards'
One of Australia's most powerful trade unions, the CFMEU, has backed a Federal Opposition proposal to enforce strict new safety standards on imported goods.
Speaking in Parliament, Opposition Industry spokesperson Sophie Mirrabella said the Coalition would "ensure that imported products better comply with the same mandatory standards imposed on locally made goods." 
Ms Mirrabella called on the Government to support the policy.
CFMEU National Secretary Michael O'Connor said if adopted, it would address a fundamental weakness in Australia's standards system that is threatening the safety of Australian consumers and could cost thousands of manufacturing jobs.
Mr O'Connor said reform was vital and bipartisan support should now be a genuine possibility.
"Under current arrangements imported goods are not subject to any systematic assessment or testing to ensure they comply with the same safety and quality standards that apply to locally made products," Mr O'Connor said.
"Whether it is imported glass, curtain walls, structural timber or whatever else; we have seen numerous instances of material coming in that is not up to Australian standards, putting consumers and workers at risk, he said.
"Recent cases of asbestos in imported car gaskets and portable buildings on mining construction sites show that dangerous goods are getting through our borders all too easily."
Mr O'Connor said Australia desperately needs an agency charged with monitoring and enforcing Australian safety and quality standards on imported products.
"These dangerous goods are being discovered way too late – after customers have purchased the products and put them to use. Heaven knows how many imported product time-bombs are sitting out there in the community waiting to fail because nobody has checked to see they meet our minimum standards.
"If the Government won't join the Coalition in committing to fix this, we will make the issue a key part of our 'Let's Spread It Around' campaign to support local jobs. (
www.letsspreaditaround.com.au
)
"If importers are not being made to meet the same standard they will continue to undercut local products and put Australian firms out of business."