UNEEK IMPROVES EXPERIENCE AT THE 'BIG DISH'
08-08-2016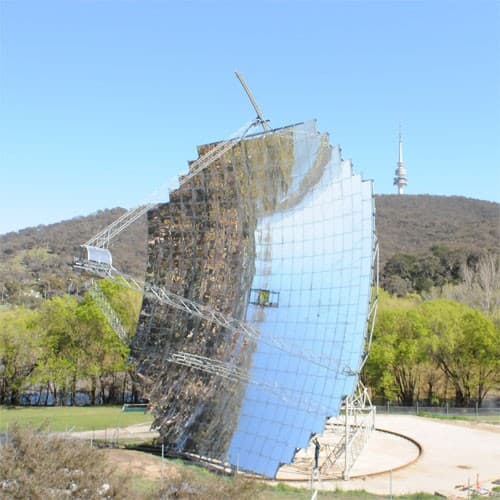 The Australian National University campus is home to the "SG4" 500m2 Big Dish Solar concentrator, the world's biggest solar dish.
Uneek bending Co was commissioned to produce the Solar Thermal receiver (once through boiler) comprising a radiant heater coil and frame for receiving concentrated solar radiation from 500m2  big dish at ANU.
Formed from Inconel alloy 601 seamless pipe and tubing and 316 stainless steel, the receiver was manufactured utilising the latest CNC methods.
The formation of the pipe and tube was controlled with CNC rolling machines and checked using laser templates, the special geometry of the coil presented added complexity for assembly and TIG welding, with all welds radiographed and LPI tested.
The Cavity Receiver Project has the objective of increasing the understanding of thermal loss mechanisms and increasing the efficiencies of high temperature solar thermal receivers.
The 'receiver' is positioned at the optical focal region of a solar concentrator to convert focussed solar radiation into thermal energy (heat), which can be carried away by a heat transfer fluid (in this case, water/steam) for storage or further energy conversion downstream. It features water / steam as the working fluid to match the existing ANU dish facilities and is a once-through helically wound tube design.
The dish features a two axis mechanism for tracking such that it can point directly at the sun throughout the day.
The orientation of the receiver relative to the horizon changes throughout the day as the dish tracks the sun. However, the receiver remains in a constant position relative to the dish reflective surface, which means that the shape of the flux profile incident on the receiver is consistent, with the heat intensity changing in proportion to the incoming solar radiation.