UNDERSTANDING PRECISION FLUID DISPENSING SYSTEMS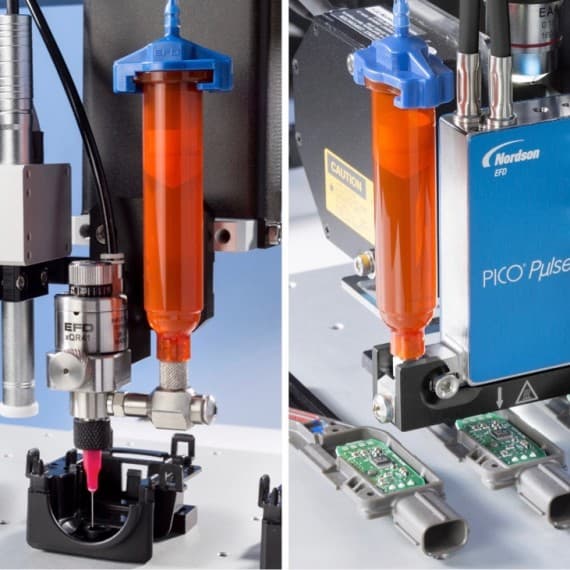 As products continue to get smaller and smaller, Nordson EFD, the world's leading precision fluid dispensing systems manufacturer, has developed new solutions to address the growing need to apply precise, repeatable micro-deposits of assembly fluids in production processes.
"We understand the challenges manufacturers face when their process requires bonding tiny substrates and components together," says Nordson EFD Business Unit Director of Valves Peter Langer. "The deposit tolerance requirements are considerable. And there are a number of variables to consider in order to choose the right dispensing method."
To help users understand the difference between two of the most common dispensing methods, Nordson is pleased to introduce its Contact v Jet Dispensing White Paper. This lists some questions to consider, then discusses the pros and cons of each method, especially with regard to various fluids, and concludes with comprehensive tables comparing its models' suitability by industry and application requirements.
Contact dispensing allows users to dispense extremely tiny amounts of fluid consistently. Tradeoffs include slower cycle rates and possible part damage due to the need for z-axis movement of an automated system.
Jet dispensing offers highly precise, repeatable micro-dispensing at speeds up to 1000Hz continuous. Jetting also meets exact deposit tolerances as small as +/-1 per cent. Tradeoffs include the fact that some fluids, such as those filled with highly-abrasive particles, cannot be jetted efficiently.
Nordson Australia
02 8814 4695
www.nordson.com