Published 07-11-2019
| Article appears in November 2019 Issue
UNDERSTANDING INDUSTRIAL ETHERNET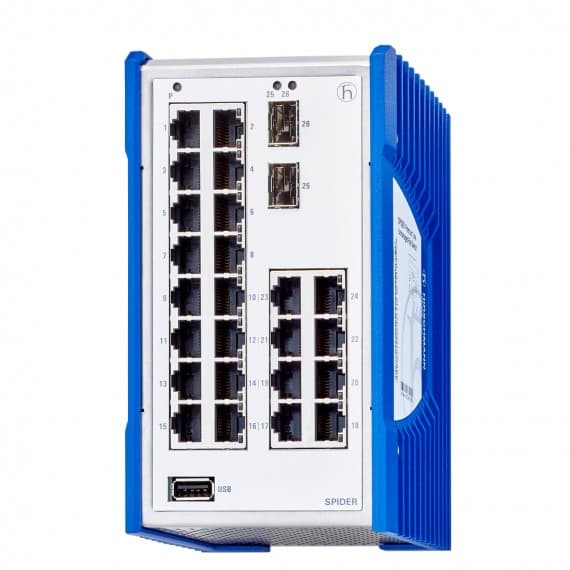 There are many different challenges in an industrial environment that standard commercial switches are not able to solve. Industrial Ethernet switches are designed for the harsh conditions and environments that are generally present in control networks, such as dust, dirt, vibrations, sweltering heat and freezing cold. Industrial switches don't have the advantage of clean air-conditioned rooms and must be designed to operate in these extreme conditions.
In terms of functionality today, there is very little difference between an industrial switch and a commercial switch. Both are designed to pass IP traffic and provide a backbone for communication between the devices connected to them.
Industrial networks have different priorities when compared with a commercial network, which means that industrial switches need to be more robust, not just to the environment, but also when it comes to the transmitting data. An industrial network must prioritise the delivery of data to ensure that the control network, for example a mine or factory, is able to operate safely and to minimise any downtime.
Many legacy devices and protocols must also be integrated into modern control network and use multiple types of cable, including Ethernet fibre and even integrated serial ports.
Another unique feature of an industrial switch is the fact that most industrial switches are powered via DC. A typical industrial switch will operate between 12 and 48V DC, which can vary across the site meaning that industrial devices must have a wide input range to cater for multiple power requirements.
Many Industrial Ethernet switches also often have redundant power inputs. This allows the weakest link (the power supply) to have a redundancy via a backup power supply, ensuring maximum up time.
Communication is required in some extremely harsh environments, and an industrial switch must be able to not only withstand heat and dust, but do so without any moving parts, such as venting fans which reduce the mean time between failures of the device.
Industrial switches are built using components that can withstand temperatures ranging from -40 to +85˚C and are designed to last a lot longer than commercial switches, usually with MTBF figures calculated well over 10 years.
Unmanaged switches such as Hirschmann's Spider range are meeting the harsh requirements of any industrial network, with plug-and-play technology built into the Spider III range for extremely fast installation and start-up and without any tools required.
Although there are many factors that separate industrial switches from commercial switches, the reality is that as things like the IoT and Industry 4.0 become more popular and more industrial networks are connected to the Internet, industrial switches and commercial switches are coming closer in terms of software, management and cybersecurity, while continuing to differentiate themselves to meet the requirements of their environment.
For a strictly limited time Control Logic has released incredibly low pricing for Industry Update readers with up to 60% off selected Hirschmann Spider III unmanaged switches.
Control Logic
1800 557 705
www.controllogic.com.au/spider