UNDERSTANDING FORKLIFT RATING PLATES
08-05-2017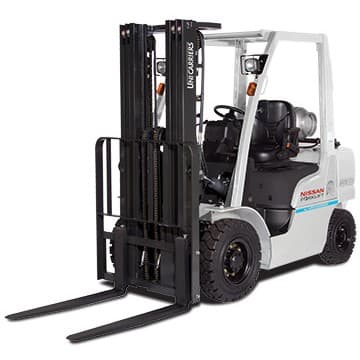 In Australia, every fork truck must carry a rating plate that contains essential information concerning the safe use of the vehicle. Ross Grassick of Lencrow Materials Handling explains.
Forklifts should never be operated without a rating plate, as the operator will have no indication of the capacity of the unit.
All the data appearing on the rating plate must be calculated by the manufacturer of the vehicle.
Damaged or illegible rating plates must be replaced and the plate must be visible to the operator from the operator's compartment.
The first lines of the plate contain the basic information concerning the truck: the make, model and serial number uniquely identify the unit.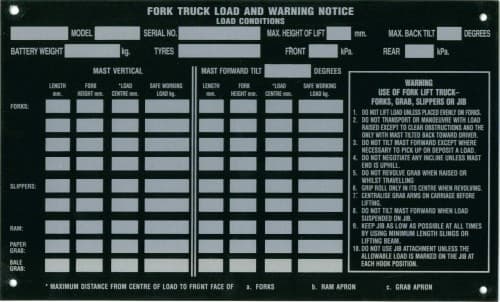 The "Max height of lift" is the height of the top of the tines (this also the height that is rated for maximum height capacity).
The "Max back tilt" indicates the maximum safe rear tilt for the unit.
The "Battery weight" is specific to battery electric trucks, and is important as the weight of the battery forms part of the unit counterweight. If this weight is not achieved in the battery, the capacity of the unit must be reduced to compensate for the reduced weight. (However, this does not work the other way - more weight will not increase capacity.)
The "Tyres" rating indicates if the unit is specified with pneumatic or solid tyres, and with some manufacturers the capacity may change as a result.
"Front" and "Rear" are for pneumatic tyres and show the pressure required in the tyres to achieve the capacity indicated on the rating.
"Mast forward tilt" indicates the permissible forward tilt. This is important as the further forward you tilt you increase the load centre, and this reduces capacity.
Every forklift is rated for a load centre: this is the centre of the mass being lifted, and the forklift should indicate this on the rating plate. So if a load is 2000mm wide the load centre will be 1000mm. (This works a basic indication but the mass with an attachment also allows for vertical and horizontal axes as well.)
Moving on to the main body of the rating plate, this table relates to attachments that can be used with the unit.
Down left hand side is the name of the attachment that is being rated. (You may require more than one rating if you have more than one attachment.)
In the columns under "Mast vertical", "Length" is the length of the fork tine, "Height" is the height at which the rating is made (you may have more than one but this would require height indication), "Load centre" is related to the load centre at which the capacity is made (in the case of use with standard pallets it would be 600mm), and "Safe working load" is the capacity at the height and load centre.
The second group of columns under "Mast forward tilt" follow the same criteria as "Mast vertical", but in the tilted forward position.
Lencrow Materials Handling
1300 536 279
www.lencrowforklifts.com.au