THE UNDERGROUND INTERNET OF THINGS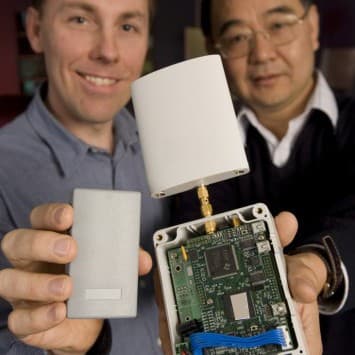 Dr Mark Hedley and Dr Jay Guo of CSIRO show off WASP
Once you get underground, the techniques and technologies that transformed above-ground mining become far less useful. 
"There is a world of difference between [mining] in the surface environment and doing that underground, where typically communications are difficult at best and achieving any level of high precision tracking is extremely difficult," said Dr Rory Linehan, Minetec general manager.
Minetec, a mining technology company, is set to integrate its leading communication products, including wireless decentralised tracking and communication, into an expanded Caterpillar MineStar suite for underground and surface mining operations, in an effort to revolutionise the way underground mining uses technology for communication and tracking. 
The technology it's using is based on WASP (wireless ad-hoc system for positioning), which was developed and licensed by scientists at Australia's CSIRO for mining globally.
"You need to integrate your communications capability, your tracking capability and the task management capability and all of that is what Minetec has been developing for the past six or seven years," said Linehan. 
"The whole industry is going towards data driven mining, data driven operations – what does the data say is the right thing to do now and what does the data say we did either poorly or well in the last shift?"
Once integration is underway, the next step will be to take the systems to Newmont Mining Corporation's Tanami Gold Mine in Australia's Northern Territory for live testing. 
Linehan said the expanded MineStar suite was expected to be available within six months, and would become industry-standard within the next five years. 
"There is a very significant opportunity to transform the industry and transform the profitability of these mines," he said.
"Minetec is bringing the enabling technologies for more automated and more efficient underground operation and that starts with the ability to track and communicate."
"We're trying to replicate the kind of accuracy and functionality you get out of GPS and we're doing it in one of the most austere environments in the world."