ULTRASONIC CLEANING EQUIPMENT COVERS ALL TASKS GREAT AND SMALL
09-05-2017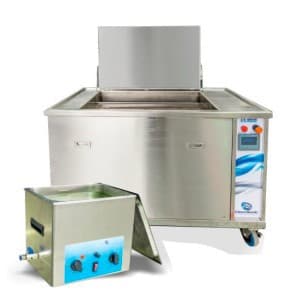 CleenSonic is expanding its range of Australian designed industrial ultrasonic cleaning equipment. The range now includes standard units suitable for cleaning items as small as electronic PCBs right up to workpieces as large as diesel engines and automotive gearboxes.
Although the concept of ultrasonic cleaning is not new, the technology has evolved over the past 60 years, and today's systems offer highly efficient cleaning performance without the use of toxic chemicals.
In a manufacturing environment, ultrasonic cleaning systems can be integrated into the production process and used to remove residues from manufacturing processes (for example in electronics assembly). And manufacturing assets such as moulds and tools can be cleaned after use without fear of damage.
In general maintenance work, ultrasonic cleaning systems are perfect for removing dust, dirt, grime, grease and other contaminants from all manner of assemblies – either prior to maintenance or simply to improve performance of components such as filters, radiators and heat exchangers.
Regular ultrasonic cleaning can keep manufacturing assets in prime working order, from pumps and nozzles to conveyor system components.
A key advantage of ultrasonics over other cleaning methods is its ability to clean hidden cavities (effectively in every nook and cranny). No matter how complex the structure of the workpiece, once it is immersed in the ultrasonic bath, the vapour-filled bubbles created by the ultrasonic process permeate through the cleaning fluid, bursting and releasing the energy that performs the cleaning process.
And the fact that the process is environmentally friendly is a bonus. As CleenSonic MD Nick Rassios point out: " Solutions used in our CleenSonic ultrasonic baths are considered carefully to ensure environmental compliance is achieved well above expectation. Managing waste and arresting contaminants is a key focus together with reduced water consumption."
In addition to the standard range, the company is also actively involved in designing and manufacturing custom systems to suit all manner of ultrasonic cleaning challenges.
CleenSonic
02 8880 8000
cleensonic.com.au