ULTRA-LOW-JITTER NETWORK SYNCHRONISER CLOCK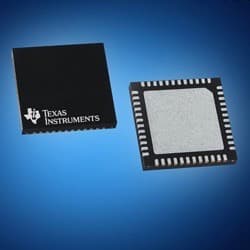 Mouser Electronics stocks the LMK05318 network synchroniser clock from Texas Instruments. Featuring a bulk acoustic wave resonator, this ultra-low-jitter, single-channel clock for 400Gbps links allows systems to transmit more data faster while also providing a higher margin for system jitter budgets than similar devices.
The LMK05318 is a high-performance device providing jitter cleaning, clock generation and advanced clock monitoring. Its ultra-low-jitter, high power supply noise rejection and industry-best hitless switching performance deliver the lowest bit errors for 56Gbps (and emerging 112Gbps) pulse-amplitude modulation-4 links to enable better network performance.
It can generate output clocks with 50fs RMS jitter using TI's proprietary BAW voltage-controlled oscillator technology, independent of the jitter and frequency of the crystal oscillator and reference inputs. The device meets the timing requirements of communications infrastructure and industrial applications, helping system designers streamline design logistics for faster time to market and enabling stable, simplified, high-performance data delivery.
Mouser also stocks the TI LMK05318EVM evaluation module, which includes SMA connectors for clock inputs, oscillator inputs and clock outputs to interface the device with 50Ω test equipment. The onboard crystal oscillator allows the clock to be evaluated in free-running, locked or holdover mode of operation. The evalutation module can be configured through the onboard USB microcontroller interface using a PC with TI's TICS Pro software GUI.
Mouser Electronics
+852 3756 4700
au.mouser.com