ULTRA-HIGH-RESOLUTION LENSES IMPROVE MACHINE VISION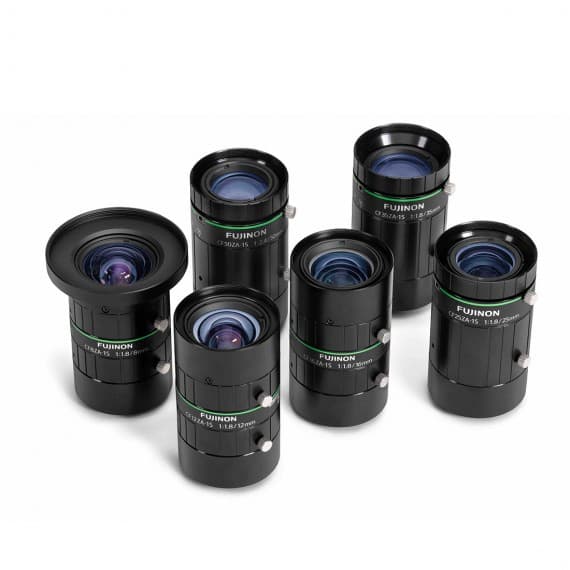 Fujifilm has developed a series of ultra-high-resolution lenses for use with large-sensor machine vision cameras in automatic product inspection and measurement on production lines.
The demand for machine vision systems is expected to grow due to the increasing automation of production lines and further reductions in the number of human operators. Currently, the demand for high precision inspection and measurement systems is growing not only in the electronics and automotive components fields, but also for larger-sized products such as organic electroluminescent and liquid-crystal displays.
As the sensors used for machine vision cameras become increasingly large and incorporate an ever-higher pixel count, lenses, the first gateways for image information, also require higher levels of performance.
Fuljifilm's CF-ZA-1S series, set for launch in February 2019, is a range of ultra-high resolution lenses compatible with sensors with a pixel count of 1.1in at 2.5µm pixel pitch, equivalent to 23Mpixel.
The lenses incorporate Fujifilm's proprietary 4D high-resolution technology, providing superior clarity. In addition, when the aperture is set to f4, the setting most commonly chosen by users, the relative illumination ratio is maintained at over 90%, ensuring that the lens produces images that operate in all areas from the centre through to the periphery. This eliminates the need for light intensity compensation.
Furthermore, the lenses are designed to be compact, with a world-smallest external diameter (for this kind of lens) of just 39mm, and their high-quality anti-shock and vibration performance, which maintains variations of the optical axis equal to or below 10µm makes them highly suitable for installation in a wide range of manufacturing environments.
The lenses are suitable for the inspection and measurement of electronic components as well as for larger-sized products. The series provides a lineup of six different lens models with different focal lengths (8, 12, 16, 25, 35 and 50mm), allowing customers to choose the most appropriate for their application.
In addition to the CF-ZA-1S series, Fujifilm will also launch the HF-HA-1S series from January 2019. This is an update of the HF-HA-1B series, already in use in a wide range of manufacturing environments. They are compatible with sensors up to a maximum size of 0.66in at 6.2µm pixel pitch, equivalent to 1.5Mpixel, and characterised by compact lens bodies with external diameters of 29.5mm. The update adds additional anti-shock and vibration performance to the existing series.
Fujifilm Australia
1800 226 355
www.fujifilm.com.au