ULTIMATE WELDING PERFORMANCE WITH 3M SPEEDGLAS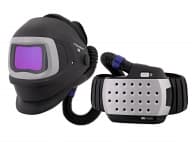 Optimum comfort … the Speedglas 9100 range
3M's Speedglas 9100 Series Welding Shields are for professional welders who require optimum comfort, trusted protection and ultimate performance.
The 9100 Series is available with powered or supplied air respiratory protection and flip-up functionality. 
All welding shields within the Speedglas 9100 range are compliant to Australian standard AS/NZS1337.1 for high impact.
The Series includes the 3M Speedglas 9100 Air (respiratory) welding shield, the 3M
Speedglas 9100 FX (flip-up) welding shield and the 3M Speedglas 9100 FX Air (flip-up/respiratory) welding shield.
All 9100 shields feature the advanced ergonomic ratchet style head harness that has a parked stop in the "up" position.
The flip-up versions provide a clear 17x10cm protective visor that is not only large but also curved, allowing for a wide clear view in all directions. 
The clear visor is perfect for grinding or precision weld preparation under low light conditions, while providing high impact and optional respiratory protection.
The new shields come equipped with a choice of Speedglas 9100 auto-darkening welding lens all of which can be used on virtually all arc welding processes, including low amperage TIG. 
When used with the award winning 3M Adflo Powered Air Purifying Respirator (PAPR) or Fresh Air C Supplied Air Regulator (SAR), the 9100 Air and 9100 FX Air welding shields provide high levels of respiratory protection from welding particulate matter, fumes and gases. 
Workers can have complete face, eye and respiratory protection, whether they are grinding, welding, or simply walking through a work zone. 
3M Personal Safety
Ph: 136 136