Ultimate protection for cables
31-08-2010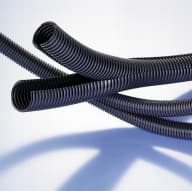 Treotham Automation now offers a range of PACOF cable protectors made from TPE and Polyamide 66 UL approved material and IP54 protections.
Features include:
Can be opened and closed in longitudinal direction any time
PMA standard nominal widths can be used with all PMA fittings
Easy installation
Trouble-free retrofitting
Applicable also for repairs
Self-extinguishing
Free from halogens and cadmium
Temperature range: –40°C to +105°C; Short-term to +160°C
New cables can be added without the need for re-wiring or re-threading within the building of machines and installations.
These protectors are ideal for vehicle manufacturing and building construction.