UK MANUFACTURING OUTPUT SLUMPS
12-04-2016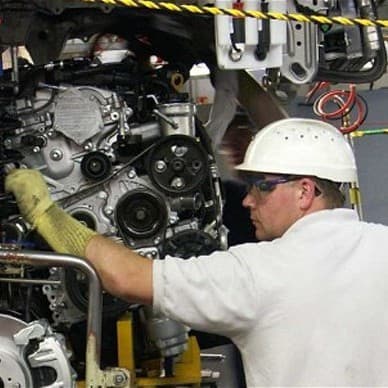 Britain's industrial sector suffered its biggest slowdown in over two years as output in the manufacturing sector fell sharply, according to new industry data.
Office for National Statistics (ONS) figures show industrial production in the UK fell 0.5% year-on-year in February, compared with a 0.2% gain in the previous month.
The figure marks the biggest slowdown since July 2013.
The ONS attributed the downturn to a dismal display across the board, which saw declines in two of the four main sectors.
Manufacturing, the largest component of production, was the main contributor to the drop, as output fell 1.8% year-on-year, recording its largest decline since July 2013.
On a month-on-month basis, industrial production fell 0.3%, reversing the 0.3% gain posted in January and falling short of analysts' expectations for a 0.1% gain.
Meanwhile, on a monthly basis, manufacturing output fell 1.1% in February, with production falling in 11 of the 13 manufacturing sub-sectors.
Iron and steel manufacturing exerted one of the biggest drags, as output dropped by 37.7pc in February compared with a year ago.
If Britain's economic recovery is to continue, the services sector will have to generate growth following the disappointing figures from the industrial sector but economists warned the outlook was not positive.
"The industrial slump places more of the onus on the services sector to drive growth, but the weakness of the CIPS services PMI in both February and March suggests that all sectors now are struggling," said Samuel Tombs, Chief UK economist at Pantheon Macroeconomics.
James Warren, research fellow at National Institute of Economic and Social Research (NIESR), said: "The subdued growth in the first quarter of 2016 has been primarily driven by weakness in production industries, especially manufacturing.
"The volume of industrial production is currently 10.7% below its pre-recession peak of the first quarter of 2008, while GDP has now surpassed its pre-recession peak by 7%."
Ruth Miller, an economist at Capital Economics, said the dire manufacturing figures and weak trade signalled a slowdown in growth in the first three months of the year amid Britain's "heavily unbalanced" recovery.