TYRE RECYCLER UNVEILS GROUND-BREAKING NEW GREEN TECHNOLOGY
06-07-2015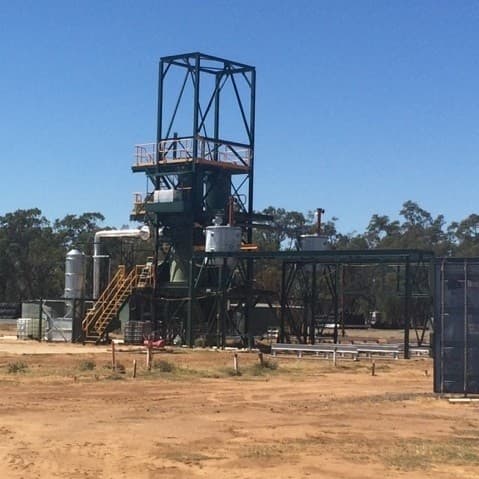 A green technology company, that recycles old car and truck tyres, is attracting worldwide attention.
Green Distillation Technologies Corporation is commercialising its ground-breaking new technology, which recycles old tyres into saleable commodities of carbon, oil and steel.
The company plans to move to full production with an $8 million upgrade to its processing plant in Warren, Western NSW.
And recently the company won a bronze medal in the Edison Awards, the world's top innovation award. They were Australia's first ever finalist in the awards.
Green Distillation Technologies Corporation has operated the pilot plant at Warren since 2009 and the upgrade to full production will see it capable of processing 19,000 tonnes, or a mix of 658,000 mix of car and truck tyres per year. This represents approximately 3 percent of the end-of-life tyres that are generated in Australia each year.
They established the plant in Warren as Denis Randall, the inventor of the process was already established at the site working on processes to recycle broad acre agricultural waste.
Denis is highly qualified in mathematics, metallurgy and chemistry and worked in the petro-chemical in Indonesia for over 30 years developing ways to clean up the waste in those industries.
The switch by GDT to end of life tyre recycling was a logical move as it is a global problem and gave them exposure to an international market, particularly the US and South America.
Another benefit of the Warren location is that the local community has been very supportive of the venture since day one.
There is also a rail transport advantage as the trains leave Warren with full loads of wheat, wool or cotton so GDT can take advantage of the empty goods vans on the return journey to transport tyres which are light compared to the bulk.    
Recycling a typical end of life 10kg car tyre will yield 4kg of carbon, 2kg of steel and 4 litres while a 70kg truck tyre will provide 28kg of carbon, 15kg of steel and 27 litres of oil. 
The disposal of old car and truck tyres is regarded as one of the world's biggest environmental problems.
GDT CEO Craig Dunn said: "We started in 2009 to prove our technology and the capability of the process, which represents the ultimate in recycling old tyres and more importantly generate a positive cash flow by selling the resulting carbon, oil and steel.
"The oil produced from the GDT process can be used as a heating fuel, direct into some stationary diesel engines or is capable of further refinement into automotive or aviation fuels, while the carbon is a high grade product that can replace those sourced from fossil fuels and the steel is returned directly to tyre manufacturers for reuse," Mr Dunn said.
"The process is not only emission free but the recycled oil is used as the heat source for the production process.
"It is the only process available in Australia that remanufactures the rubber from old tyres into a different energy form as the other recycling methods merely change the shape or appearance of the rubber."