TYRE RECYCLER IS TESTBED FOR THERMOELECTRIC TECHNOLOGY
23-07-2019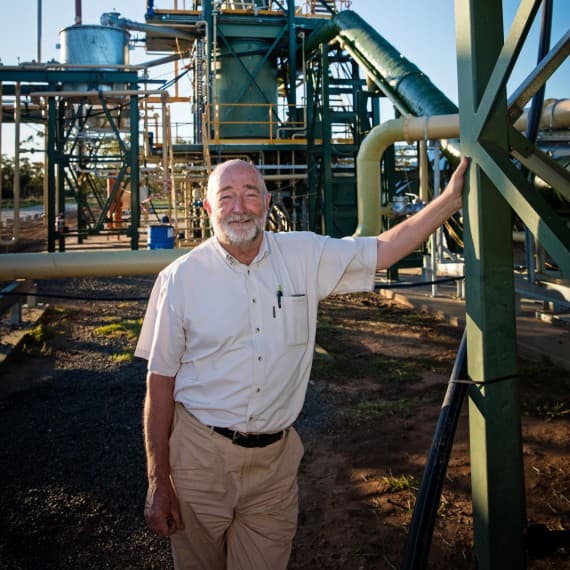 Trevor Bayley: "paying a premium for power that we don't get"
Tyre recycler Green Distillation Technologies is set to conduct the first industrial trials of revolutionary new thermoelectric technology from the USA.
The devices fit around an exhaust flue and convert waste heat to electric energy. To date, prototype testing has been confined to the US laboratory, and so this will the first field trials to be conducted anywhere in the world.
Trevor Bayley, CEO of Green Distillation Technologies, points out that the electric power needed to operate the company's tyre processing facility is a major expense.
"This problem is compounded for us at Warren as our power travels 500 kilometres from the Hunter Valley and we can suffer a significant transmission loss, which means we are paying a premium for power that we don't get.
"We had considered installing a solar energy system, but we don't really have any large flat roof surfaces and the only waste that comes from our process is heat and our exhaust stack, which is connected to the six processing modules and maintains a constant temperature that is ideal for thermoelectric generation, using this technology," he said.
"We use our own oil as the heat source for the tyre processing, which is what generates the waste heat so that we have created a further cycle by using oil we have created from old tyres to generate some of the electricity needed to operate the plant.
"Our tyre recycling technology is a world first and has created considerable international interest and as a result we were offered the opportunity of testing this new thermoelectric power generation system.
"At this stage we envisage that the system will only generate sufficient power for our own needs and not provide any excess for the grid or other users," he concluded.
Green Distillation Technologies
03 9826 2335
www.gdtc6.com