TWO-STAGE WASTEWATER TREATMENT IS FIT FOR LORD HOWE ISLAND
10-01-2018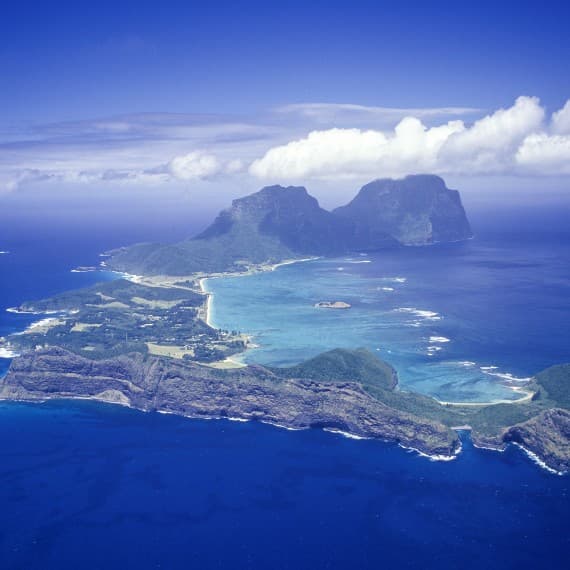 Australian company CST Wastewater Solutions has put together an environmentally friendly and cost-efficient wastewater treatment system for smaller, remote and ecologically sensitive community, municipal, agribusiness and industrial applications throughout the Asia-Pacific region.
The two-stage system uses a combination of coarse and fine screening and advanced dry compaction technology to produce a more hygienic and more compact solids output that is easier to handle and transport. The system itself is economical and compact and uses less energy and water compared with alternative systems.
The new system, which uses the world's best technology in an Australian-engineered package, has been selected for use by the Island Board of World-Heritage listed Lord Howe Island after extensive testing to determine the best solution for the management and disposal of waste generated on the island.
The existing waste management facility for the island, which lies 900km off the east coast of Australia, sorts various waste streams including food waste, paper and cardboard, green waste, recyclable materials re-usable materials and general waste. Septic waste from residential and commercial system is also treated at this facility, drawn from about 220 waste water systems on the island, 25 of which are commercial operations. Currently pump-outs are delivered to the facility via a 1800 litre wastewater tanker.
"CST Wastewater Solutions was tasked to review a 'best fit' sludge dewatering system for the septic waste, because the current infrastructure is becoming outdated and the existing drying beds are to be decommissioned," said CST Wastewater Solutions Chemical Engineer and Managing Director Michael Bambridge. Bambridge and his brother Peter worked extensively with the Lord Howe Island Board's Project Manager to find an optimal solution that combined outstanding environmental performance with equally strong OHS performance – and which has a much smaller footprint than the drying rack system previously used.
"The extensive work done by Peter with the Lord Howe Island Board Project Manager inspired us to take a fresh look at the type of environmental solutions on offer to communities and industries in environmentally sensitive locations throughout the Asia-Pacific," said Michael Bambridge.
CST proposed a two-stage system.
The first stage is a CST screen extractor with coarse screening at 6.0mm up front to remove plastic, rags and other disposals typically found in community, commercial and industrial wastewater treatment plants.
The second stage uses CST's new KDS separator technology for fine screening and dewatering of the fines. The clog-free automatic liquid-to-solid waste separator is being introduced to the Asia-Pacific by CST Wastewater Solutions for compact dewatering applications ranging from food processing, food waste, grease trap and waste oil through to municipal wastewater sludge, livestock manure and agribusiness processes.
The KDS system was developed in Japan, a country that is highly focused on food and water purity. CST Wastewater Technologies engineers KDS' latest technologies into Australian-engineered packages specified to achieve best results in individual locations, such as Lord Howe Island.
"CST completed successful trials on Lord Howe Island under the supervision of the Board's Project Manager, obtaining impressive results from the pilot plant KDS separator, with high screening capture and effective dewatering of the fines from the wastewater delivered by the tanker servicing the community," said Bambridge.
The compact KDS multi-disc roller separator features a novel self-cleaning dewatering and conveying system with oval plate separation and transfer structure that prevents clogging and permits automatic continuous operation that handles oily and fibrous material with ease.
"This simple-to-maintain separator offers a high throughput within a small body, with the smallest model being just under 350mm wide and weighing 50kg. It is ideal for applications such as Lord Howe Island and other smaller communities and industrial applications throughout the Asia-Pacific, including coastal, remote and ecologically sensitive areas. It is more hygienic and produces an output that is twice as light and half the cost to transport for disposal compared to other systems. It is also extremely compact, energy efficient and uses minimal water."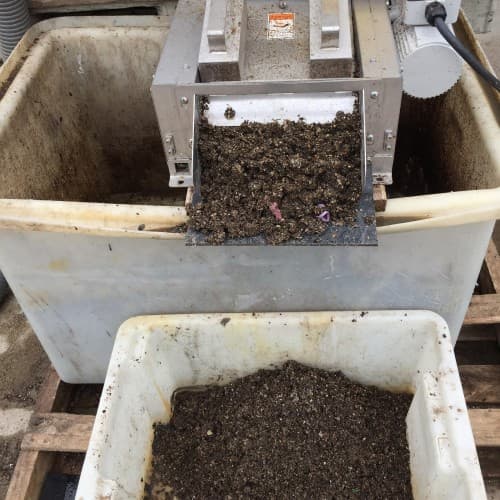 The KDS separator produces hygienic and easily handled output
Designed for efficiency, sustainability and conservation of resources in small-to- medium applications, the energy-efficient KDS separator consumes as little as 0.06kWh of electricity and uses no wash water. Compared with alternative technologies it saves on power, space and money.
"The KDS separator uses a fraction of the power of a centrifuge and involves no water usage during operation, unlike a belt press or a screw press. For a relatively low investment cost, it offers a high-performance alternative for example to sludge drying beds and geobags," says Bambridge.
The KDS technology can also be used for thickening of dissolved air flotation sludge – a very common application throughout wastewater operations – in which role it achieves solids capture of 97% thickened sludge at a dryness of 17%. Waste activated sludge dryness levels are typically 15-25%.
The compact rotational oval plate structure achieves high transportation and separation efficiencies, and the simplicity of the machine's overall structure offers low maintenance, achieving cost and OH&S benefits as less handling is required to clear hazardous materials.
CST Wastewater Solutions
02 9417 3611
www.cstwastewater.com