TWO STAGE PLUS VSD DELIVERS COST EFFICIENT COMPRESSED AIR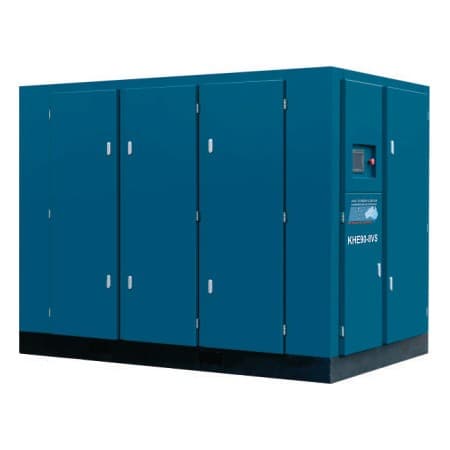 The KHE90 variable speed rotary screw compressor
After 10 years generating its compressed air requirements from two 110kW fixed-speed rotary screw compressors, Ensign Laboratories in Mulgrave Victoria found that both its compressors had service issues. And the company concluded that they were not worth repairing due to their old technology and inefficient energy usage.
With compressed air as the primary source for powering pumps, fillers, cylinders and control systems in its highly specialised and precision research and production operations, the company was looking to to upgrade its system efficiency and reduce energy costs.
After much comparison in the marketplace, taking into consideration compressor technologies, energy efficiency, supplier reputation and ongoing support capabilities, Ensign chose to replace the two old compressors with two new KHE90 variable speed rotary screw compressors from Southern Cross Compressors (Australia).
Thanks to the overall efficiency of two-stage technology, where less energy is required to generate higher outputs, the drive motor can be one or two sizes smaller than required for equivalent single-stage models.
Rod Sutherland, Engineering Manager at Ensign Laboratories stated: "Whilst the KHE90-VSD two-stage compressors from Southern Cross are powered with 90kW main drive motors compared to 110kW in the old machines, they provide the same maximum output with reduced running costs… and as our load is constantly changing, the variable speed drive gives us greater control with much greater efficiency and more significant savings.
"After due consideration, the Southern Cross package offered us the best combination of efficiency and capital cost. Calculations of required outputs versus energy usage clearly showed that we can expect a rapid payback on that capital cost over the next few years."
More than 70% of the long-term cost of owning an air compressor can be attributed to energy usage. Over the life of the compressor, this adds up to many times the original investment, yet in many cases much of this energy is wasted through poor part load control.
The KHE two-stage with variable-speed drive is an intelligent air compressor that can accurately and rapidly vary its output to match changing demands with corresponding reduction in absorbed power. A variable speed controller enables the compressor output to exactly match demand, eliminating the high part load energy usage experienced with fixed-speed compressors.
The combination of two-stage technology with a variable speed drive eliminates wasted energy and achieves savings as high as 35%.

Compressed air is the primary power source at Ensign Laboratories
To support its investment in the two new KHE compressors, Ensign entered into a custom designed service contract with Southern Cross to ensure the smooth running and energy efficiency of its compressed air systems for many years to come.
Sutherland concluded: "We have been more than satisfied with Southern Cross Compressors from the professional advice and informative sales approach, commissioning of the systems and the after sales service we have received. We are already experiencing greater efficiencies in our production and significant reductions in energy bills."
Southern Cross Compressors
1300 098 901
www.southerncrosscompressors.com.au